Passenger plane involved in near miss with UFO near Glasgow airport
The blue and yellow UFO came within 300ft of the Airbus 320 on December 2 above Baillieston.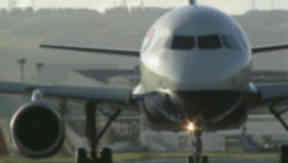 A passenger plane was involved in a near miss an unidentified flying object, two pilots have reported.
The blue and yellow UFO came within 300ft of the Airbus 320 on December 2 above Baillieston as the plane approached Glasgow Airport.
The UK Airprox Board – which investigates near misses in the skies – heard the incident had taken place at around 3500ft. Both pilots on the flight reported seeing the UFO "loom ahead".
The board head the object passed directly beneath the plane before either of the crew had time to take avoiding action or had "really registered it" although they were both agreed that it appeared blue and yellow or silver in colour with a small frontal area but that it was "bigger than a balloon".
The estimated miss-distance was 300ft.
An air traffic controller said that he was not talking to anyone else in that area and that nothing was seen on radar at the time.
The board said: "The pilot of an A320, inbound to Glasgow, gave a contemporaneous account of his ac's encounter with an untraced object at 3500ft.
"Investigation of the available surveillance sources was unable to trace any activity matching that described by the A320 pilot. Additionally there was no other information to indicate the presence or otherwise of activity in the area."
The report concluded: "Members were of the opinion that, in the absence of a primary radar return, it was unlikely that the untraced ac was a fixed-wing or rotary-wing ac or man-carrying balloon.
"It was considered that a meteorological balloon would be radar significant and unlikely to be released in the area of the Airprox.
"A glider could not be discounted but it was felt unlikely that one would be operating in that area, both due to the constrained airspace and the lack of thermal activity due to the low temperature.
"Similarly, The Board considered that a hang-glider or para-motor would be radar significant and that conditions precluded them, as they did para-gliders or parascenders. Members were unable to reach a conclusion as to a likely candidate."
Your report: If you have information on this or any other story, please let us know. You can send information, pictures to web@stv.tv or call us on 01224 848918.
Feedback: We want your feedback on our site. If you've got questions, spotted an inaccuracy or just want to share some ideas about our news service, please email us on web@stv.tv.