Moira Anderson story set to be made into film by Sandra Brown
Where There is Evil author prepares movie pitch about her father's relationship with tragic Coatbridge schoolgirl.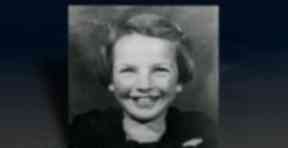 The story of a Coatbridge schoolgirl who went missing more than 50 years ago is set to be turned into a film.
Moira Anderson was just 11-years-old when she disappeared in 1957, with some suspecting that she suffered at the hands of a local paedophile ring.
Sandra Brown, who blames her father Alexander Gartshore for being responsible for Moira's disappearance, is collaborating with a London scriptwriter to create a movie around the story.
Gartshore, a convicted child rapist, was the bus driver who last saw Moira alive and now The Where There is Evil author and founder of the Moira Anderson Foundation has started working with Amanda Duke to develop a tale centred around her dad's relationship with the girl.
The 64-year-old said: "There were several documentaries done and a drama documentary proposed in 2000. It got a script developed but after five or six drafts ITV decided it didn't get the funding. We think it's the right time now.
"The film will be more based on the first book Where There is Evil and her relationship with my father.
"If it goes onto the big screen, the money wouldn't directly fund the charity. What we'd really hope is that a movie or drama would help raise awareness.
"It's just a road I think is the right time to go down."
Sandra, who now lives in Edinburgh, met award winning scriptwriter Amanda Duke during a trip to London.
Amanda was recently in talks with Cascade Media about a separate project, but is hopeful that the Moira Anderson story will be picked up.
She said: "It's at a very early stage just now, we're working on the second draft of the script. I'm really excited.
"I was working on another project about a missing person and stumbled upon Sandra. So I read the book and I couldn't stop thinking about it.
"I started talking to Sandra and we have established a good working relationship. I actually called her from my summer holiday last year - I just couldn't let it go."