People in Scotland 'split over future of nuclear weapons on Clyde'
Conservative peer Lord Ashcroft commission the Trident opinion poll.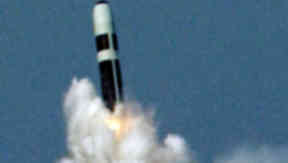 People in Scotland are split over the future of nuclear weapons on the Clyde with almost as many supporters as opponents, a poll suggests.
A third of respondents said Britain should give up nuclear weapons completely when Trident reaches the end of its useful life (34%), according to a poll commissioned by Conservative peer Lord Ashcroft.
Just under a third say it should be replaced with a cheaper, less powerful missile (31%) and a fifth say it should be replaced by an equally powerful missile. Around half oppose the UK having nuclear weapons in principle (48%), around a third support it (37%) and around one in six 15% are unsure.
A third say Scotland should continue to lease Faslane to the UK Government to store its nukes even if it becomes independent (35%) while half say it should not. Support for nuclear weapons is higher among unionists than nationalists.
Over half of respondents say Scotland should not be an independent country (56%), while three in 10 say it should (30%). Half of unionists support nuclear weapons (52%) and a third are against, while almost three quarters of nationalists oppose them (72%).
Lord Ashcroft said the poll contradicts a recent Campaign for Nuclear Disarmament (CND) survey which suggests three-fifths of people in Scotland oppose a replacement for Trident (60%), which he regards as biased.
He added: "It is always worth looking twice at any survey that seems to show that the public support the agenda of whoever commissioned it.
"The numbers served CND's purpose and were duly seized upon by parts of the Scottish press, and the SNP which declared the issue a huge opportunity for the independence campaign.
"As we know from their attempt to rig the referendum question, the SNP has form on this sort of thing. Trying to show that people think what you want them to think is not the same thing as trying to find out what they really do think. Told that the Trident system is coming to the end of its useful life and will soon have to be scrapped or replaced, only one third of Scots said the UK should give up nuclear weapons completely.
"More than half thought Trident should be replaced, either with an equally powerful system or a cheaper but less powerful system. Asking a separate sample the same question but adding that the cost of replacing Trident would be £20bn to £25bn made no significant difference."
Lord Ashcroft is the Prime Minister's special representative for veterans' transition, a trustee of the Imperial War Museum, treasurer of centre-right political alliance The International Democrat Union and a billionaire businessman.
An SNP spokeswoman said: "We are extremely confident that a majority of people in Scotland want to get rid of Trident nuclear weapons, in line with every other survey of opinion and the recent overwhelming vote in the Scottish Parliament.
"Lord Ashcroft is guilty of the very thing he complains about. His question only included the procurement cost of a Trident replacement, when independent research shows that its lifetime costs will be nearly £100bn. Only a Yes vote next September can get rid of Trident for Scotland so that we can spend Scotland's share of this money helping to build a fairer society and stronger economy."
A spokesman for the pro-independence Yes Scotland campaign said: "All research, both professionally conducted and anecdotal, tells us that the vast majority of people living in Scotland are absolutely opposed to nuclear weapons, new or old, being based in our country. And no one should be in any doubt that his is not just for cost reasons."