Joe Wark remembers 'Well with new book to help people with dementia
Former Motherwell star Joe Wark has completed a 'memory book' as part of the Remember Well project.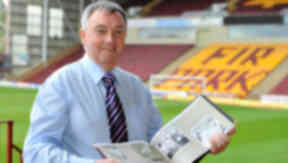 A former Motherwell FC star has combined his own experience in the game and living with dementia to help others.
Joe Wark has completed a 'memory book' as part of the Remember Well project which features old photographs and thoughts from his illustrious career.
Included in the book are highlights such as his first season in 1968 when Motherwell were promoted to Scotland's top flight, Joe scoring a hat trick against Montrose and also winning the Steelmen's player of the year award.
Joe became Motherwell's first choice left back the following season and stayed with 'Well until 1984, working with seven different managers and amassing 464 appearances - the third highest at the club.
He was also selected to represent the Scottish League in a match against the English League team in 1976.
The 65-year-old said: "Wading through all those boxes paid off as the result is fantastic.
"Everyone that has seen the book is very impressed and I am very proud of it."
Remember Well was launched in 2012 as a joint-venture by North Lanarkshire Council, Motherwell FC, NHS Lanarkshire and Alzheimer's Scotland.
The project received £102,000 from Sports Relief to fund the three-year project to help tackle dementia.
Norrie Gallagher, Remember Well Coordinator, added: "I am extremely pleased with our first memory book and would like to thank the Wark family and everyone who contributed to making it such a success.
"This is the first of many such memory books to be completed."
Remember Well aims to use strong football heritage to improve the lives of people with dementia.
The project now holds weekly football focused reminiscence meetings at Fir Park and other venues across North Lanarkshire.
Dr Alastair Cook, associate medical director for NHS Lanarkshire, said: "How very special it is that the first 'memory book' is produced by Joe Wark, a Motherwell Football legend.
"Helping people live well with dementia requires a much wider community approach and the Remember Well programme is an excellent and inspiring example of this."
Councillor Sam Love added: "Through this project, we can raise awareness about dementia and support those people experiencing the condition to lead a fuller and more enjoyable life.
"Joe is a true gentleman with a terrific sense of humour and his book is a fascinating insight into his football story."
For more information click here or contact Norrie Gallagher on 01698 275300 or by email