Activists pledge to live at Faslane Peace Camp to prevent closure
The closure of the camp has been prevented following a meeting of activists.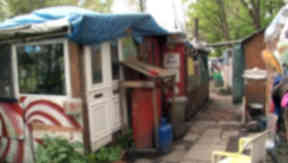 Anti-nuclear weapons activists have pledged to live at Faslane Peace Camp to prevent it from closing.
In April, organisers confirmed that dwindling numbers may force them to close the site near Helensburgh, in Argyll and Bute, which has been occupied by protesters continuously for almost 31 years.
However, a group of activists have pledged to live on the site for at least the next two years after a meeting of around 40 protesters decided the future of the camp outside HM Naval Base Clyde.
Currently, seven protesters are living at the site full time as many of the residents for the previous two years have moved on.
New resident Will Thomson believes there are others wanting to join them.
He said: "I am excited to find that there does exist a group of people here who are willing to put their lives on hold to dedicate their time to what really matters.
"I, for one, am going to do whatever I can to help them. The residents who have committed two years of their lives to keeping this place running have done a fantastic job - I hope now I can help out in the same way."
In April, residents had proposed to start dismantling the site this month in order to create a garden space if more activists had not pledged to continue living there full time.
They stated in an open letter on their website that it would have shut it down by June 12, the 31st anniversary of the site being established by campaigners Bobby and Margaret Harrison in 1982.