Much ado about graffiti as street artist tackles Shakespeare project
Street artist and student Peter Drew is at it again - popping illegal artworks up around Glasgow to catch the public's eye. His latest work is a comic strip of Shakespeare's Hamlet.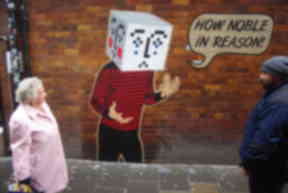 Forelorn emoticon faces spouting Shakespearean verse are popping up across Glasgow's streets without warning.
Hanging their heads and bemoaning their existence through Hamlet's second-act soliloquy, these illegal street artworks pose questions to passers-by about technology, language and human emotion.
The latest project of street artist and Glasgow School of Art student Peter Drew, Emoticon Hamlet has dotted eight of a planned 16 solemn, pixelated Hamlets around the city - sights which have bemused and captivated Glasgow's residents with equal measure.
After the success of his previous guerilla art project, 'Home', which saw him paste wall-high portraits of friends and family from Adelaide on Glasgow's vacant wall space, Peter has turned his attention to interpreting a tragic Shakespearean tale through a modern, technological lens.
"The project is a way of questioning whether subtle and complex emotions, which once characterised great art, can have a place in the age of digital communication," said Peter, describing the reason behind giving Hamlet a pixelated face.
"Whenever I feel down to such an extent that the world and everything in it seems worthless, I can never figure out why.
"When I read the soliloquy it came as some relief that Shakespeare understood that feeling, but I think it's getting harder to express that kind of thing. We seem to be getting better at expressing the easy stuff but complex and subtle emotions don't work too well on the internet."
The despairing Hamlets have materialised on unused walls such as the brick of Dundas Lane, with eight more of the 'comic strip-style' soliloquies due to appear in as-yet-undecided locations around the city.
Standing in stark contrast to the emotive, personal faces he created in Home, Peter's Hamlets present a new challenge and a unique message.
"There are no conscious connections between the projects, but now that you ask it does seem strange to me that the Home project is all about faces, whereas these characters have their faces covered," said Peter.
"Home is the sort of project that's never completed, but I need to put it aside from time to time, otherwise it would take up all of my time."
As Peter's projects are illegal, the chances of his Hamlets being destroyed before the project is completed are high, but this is an occupational hazard that Peter has become used to as a street artist.
Peter's work is not part of Glasgow City Council's 'Clean Glasgow Campaign', an initiative which uses publicly funded street art to regenerate run down areas, and therefore goes against the council's anti-graffiti policy.
With his artwork, Peter aims to reclaim public spaces to belong to the community, rather than leave it subject to the will of the council.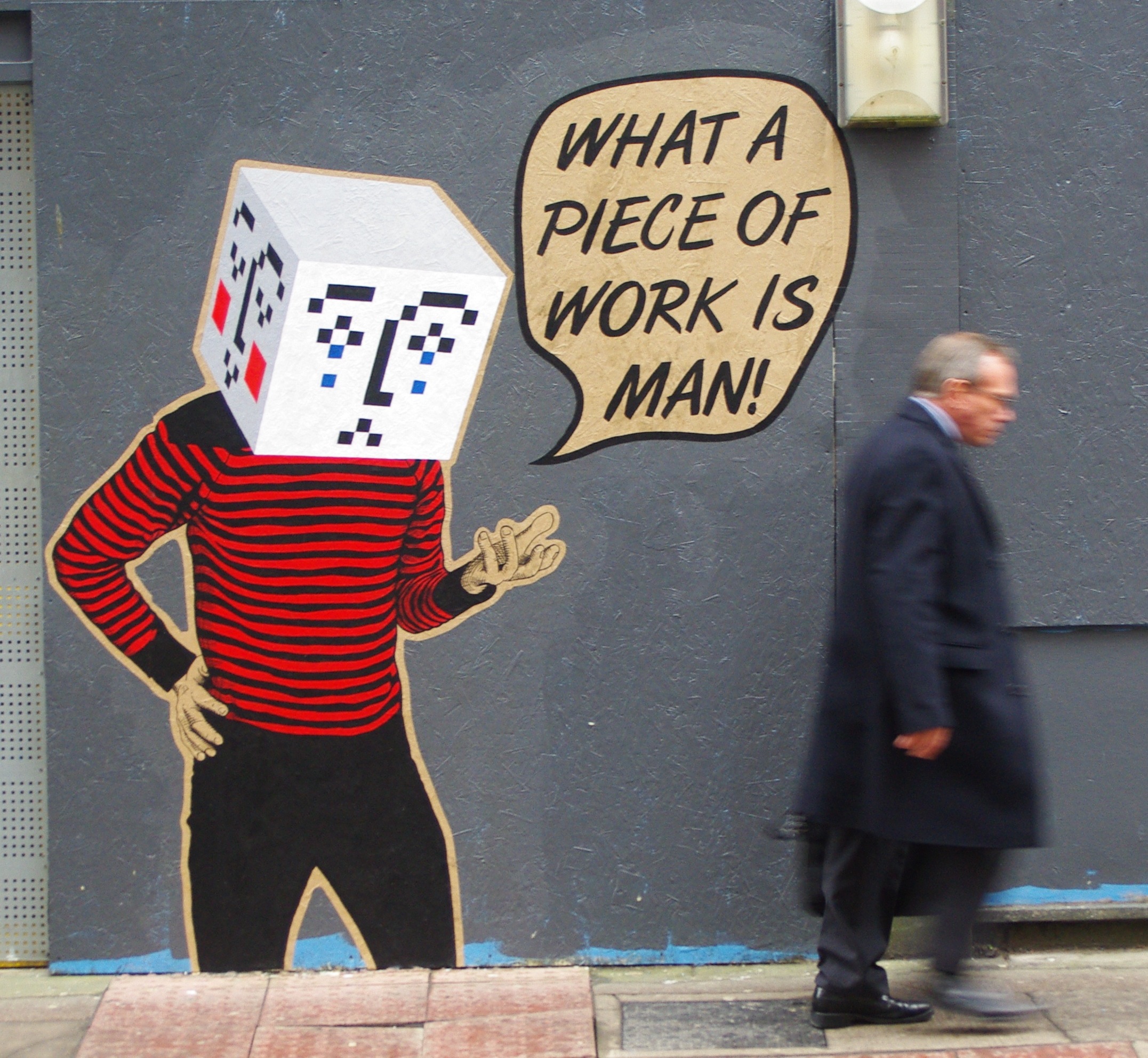 Peter's street art documentary 'Who Owns The Street', made in his home town of Adelaide, Australia, has recently been accepted to be screened at the Sheffield Documentary festival. Peter believes that the UK can learn lessons from their approach to street art through the documentary, which analyses civilian relationships with public space and art.
"The documentary is about what happens when the authorities try to support street art that's carried out illegally," said Peter.
"There are plenty of funny contradictions in the world of street art, especially when authorities start trying to control it.
"The type of street art I like tries to poke fun at authority and I think Glaswegians enjoy challenging authority, probably more so than folks back home."
Although the abstract message of Hamlet Emoticon may not be instantly interpreted by Glaswegian pedestrians, Peter hopes that the pictures will at least turn heads and prompt questions.
His next project will be an exploration of the world's most famous tragic love story, Romeo and Juliet, with an emphasis on Peter's favourite character of Mercutio.
"Those who notice it seem to enjoy the project, but truth is that most people don't even notice street art," said Peter.
"It's really there for the people who are a little more observant than most. Plenty of people have asked me, 'what's it for?' which is what I was hoping would happen.
"I don't expect the passer-by to see the whole purpose of the project from one glance, but I hope they might enjoy the sight of it and feel curious to find out more.
"I think it would be a bit contradictory if this project could be understood all in one glance."