Council apologises over tenant 'bedroom tax' eviction letter
Angela Buskie, of East Kilbride, South Lanarkshire, received letters over the debt.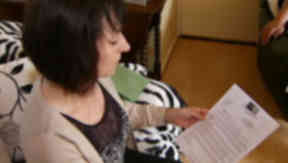 A Scots council has apologised for threatening to evict a tenant over the so-called 'bedroom tax'.
South Lanarkshire Council stated the letters were sent to a resident by mistake.
An inquiry has been launched into why the documentation was dispatched.
One woman told STV she was scared that she would be made homeless when the letter was delivered to her home.
Angela Buskie, of East Kilbride, went into rent arrears because she could not afford the tax imposed on her four-bedroom house.
She received three letters from the local authority warning her she faced eviction if she did not pay up the £129 she owed the council.
The so-called bedroom tax implemented by the UK Government has seen the amount of benefits that they can claim reduced if they have a spare bedroom in their council or housing association home.
Solicitor Gordon Dangerfield, of Glasgow firm Archer Coyle, is representing several tenants who have received similar threats from local authorities.
South Lanarkshire Council confirmed an inquiry has been launched into the incident, to establish the circumstances surrounding the sending of the letters.