'All we need now is a team of guys to match the old Airdrieonians'
Airdrie United were formed in 2002 after Airdrieonians were liquidated and could not regain entry to the Third Division.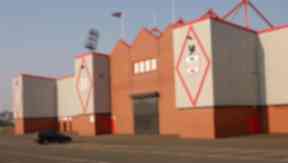 It was the news that some fans have waited 11 years for: Airdrieonians are back in Scottish football.
At the end of the 2001/02 season Airdrieonians were liquidated and tried to regain entry to the league soon after, but Gretna were chosen instead.
After Jim Ballantyne led the purchase of struggling Clydebank, and inherited their Scottish FA membership, the Diamonds returned to the Second Division in the guise of Airdrie United.
Some turned away, claiming that Airdrie United weren't the same club. But others remained to support the local team playing in the traditional diamond kit at the Shyberry Excelsior stadium.
But Willie Marshall hopes the name change will tempt some of those disenfranchised fans back to the terraces.
Marshall, the chairman of the club's Supporters Trust, has met with the Airdrie board on numerous occasions with the topic of a name (and badge) forming part of the discussions more often than not.
After getting a text from one of the directors with the news, the Airdrie man couldn't contain his delight. He hopes the fans of the past who didn't turn out to see Airdrie United will return.
"I am hoping they will come back," he says optimistically. "A lot has been said in the past that they would come back if they were called Airdrieonians.
"Airdrieonians supporters have always wanted it back; it is closure.
"We tried to buy the name off the liquidators and we had raised it with the club and had discussions at an open meeting with the chairman.
"I've not heard about the badge yet but it would be great if we could get that back as well, but it seems difficult.
"This feels like a new start even though it's not. We're looking forward to it. All we need now is a team of guys to match the old Airdrieonians."
The move comes just months after the fan board of Lanarkshire neighbours Clyde FC chose to move the club to East Kilbride and rename the club "EK Clyde".
Airdrie's Monklands rivals were also said to be considering changing their name to 'Coatbridge Albion Rovers' or some variant to give the club a more local feeling.
Former Airdrieonians striker Andy Smith, who played in Europe and both the 1992 and 1995 cup finals, reckons that any expected upsurge in the crowd will still depend on the current financial climate.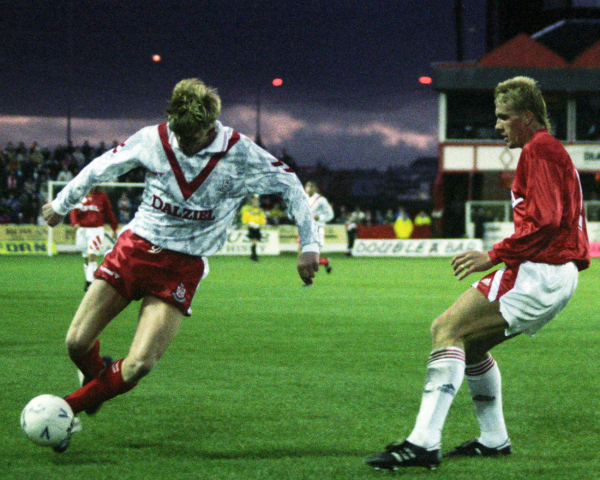 Airdrieonians' Andy Smith against Sparta Prague at Broomfield in 1992. (copyright SNS)
He said: "I don't think it will wave a magic wand and everyone will return. It may get some of them back, it may be a huge incentive but the reason crowds are down is like everywhere else.
"Hopefully changing the name will have a change in the team's fortunes on the park though."
In a statement, Airdrie chairman Jim Ballantyne confirmed: "It was raised at a fans' meeting a few months ago but we could not give too much away as there was still much work to be done.
"When the old company went into liquidation, it was in a different football environment and the use of the name was not possible at that time.
"With all the recent changes, however, and subsequent rulings, it paved the way for us to make the move and therefore we set the wheels in motion."
As the news broke, football fans from Airdrie and beyond had their say:
That is the name change through guys, I am now officially an Airdrieonians FC fan again guys! #airdrietilidie xx

— Anne Fleming (@ickle_annsey) June 3, 2013
So Airdrie Utd are now Airdrionians again! What was that 11 years to get them fully back?

— JailEnder (@Jailender) June 3, 2013
Class that they've allowed that! #diamonds

— Reece Scragg (@Reece14Scragg) June 3, 2013
They'll always be Airdrie United.

— Andy Alston (@andyalstonf1) June 3, 2013
Airdrie United changing names to Airdrie FC and now Airdrieonians FC (like the old club) isn't a bad thing IMO.

— Andy K (@ShandyK_) June 3, 2013
@STVSport @STVGrant Im not an Airdrie fan but im born n bread in the town so its Great news for the Diamonds fans and for our town...

— Paul C (@CushtyBhoy) June 3, 2013
@STVLanarkshire @STVSport @STV_Douglas Delighted!! Never stopped me supporting airdrie but just so happy the REAL name is back!!

— Paul Mcd (@paulmcd95) June 3, 2013
I wonder if this name change will bring back all the Airdrieonians fans who don't attend Airdrie games...

— Calum Purdie (@CalumPurdie) June 3, 2013
I think I'm the only Airdrieonians fan that's not that excited at the name change, as I've only ever supported Airdrie United.

— Calum Purdie (@CalumPurdie) June 3, 2013
@Reece14Scragg quality, hope that brings crowds back. Would be brilliant to have a decent rivalry with Airdrie again

— David Moore (@DMooreSAFC92) June 3, 2013
"@STVSport: Airdrie United to change name to Airdrieonians following SFA approval http://t.co/lPlRyy5Ojd"This is fantastic news

— Lewis Coult (@LC_Flamingo) June 3, 2013
@STV_Douglas @STV_Andy @Airdrie_FC @STVSport @STVLanarkshire everybody calls them Airdrie anyway so only their fans may bother...or not.

— Steven Morrison (@zetlandbairn) June 3, 2013
Interesting to see Airdrie United revive the old Airdrieonians name, though I'm not sure I see the point.

— David Stoker (@davidstoker_lfc) June 3, 2013
Over the moon about Airdrie getting their onians back. I hated calling them Airdrie United from day 1.

— Garry Boy Thomson (@G_Spaceman) June 3, 2013
Airdrie United heet vanaf komend seizoen weer Airdrieonians FC. Mooiere naam.

— Joris van de Wier (@doingthe116) June 3, 2013
What do you think of the name change? Let us know via Facebook, Twitter or email.