Step aboard the Clipperton Project's floating lab on the Clyde
Science Minister Alasdair Allan gets a first look at the unique feature which is appearing at the Glasgow Science Festival.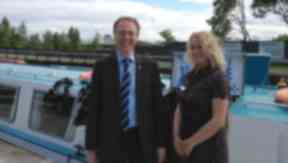 Visitors can step aboard a floating laboratory at the Glasgow Science Festival 2013.
Crew on The Clipperton Project on the Clyde canal will be sharing their experiences of working on the remote island Clipperton, 800 miles from Mexico at the festival which runs from June 6 until 16.
Ahead of the launch of the full festival programme Science Minister Alasdair Allan had a first glimpse of the unique floating lab.
The Clipperton Project will be travelling the length and breadth of Scotland over four months thanks to funding from the Talking Science awards.
Crew from the eight countries will be explaining more about the island of Clipperton, which was strewn with plastic rubbish, when they arrived there last year to audiences at the festival.
Dr Allan said: "One of the key elements of the success of Glasgow Science Festival, and the other science festivals across the county, is finding ways to appeal to people of all ages and who think they have no real interest in science and technology.
"The Clipperton Project's floating lab is an excellent example of this as it offers a cruise on the canal; tales of a fascinating distant island and the opportunity to hear first-hand accounts of the ways that the environment of Clipperton is being affected by the actions of people hundreds of thousands of miles away.
"They were also able to confirm that that the coral reef remained healthy and visitors to the boat will be able to work with the crew to create their own reef and learn about its ecosystem.
"I hope many people take this opportunity to hear about this remarkable expedition and the other exciting events taking place as part of Glasgow Science Festival this year."
Last year the science festival attracted an audience of more than 40,000 people across the 265 different activities.
Nearly 70 events will be running at venues across the city for this year's festival, ranging from the Clipperton Project to talks by Simon Watt and Helen Arney.
For full listings go to the Glasgow Science Festival website.