Rangers talks continue over meeting to remove Malcolm Murray
Cayman Islands-registered Blue Pitch Holdings is behind the general meeting call.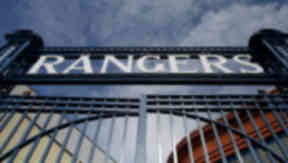 Rangers have agreed to continue talks with a shareholder group that called for a general meeting to remove Malcolm Murray from his post.
Mr Murray was chairman of Rangers International Football Club plc until last week, when it was announced former manager and current non-executive director Walter Smith would take over the role.
In May, the Cayman Islands-registered Blue Pitch Holdings, which owns a 6.1% stake in Rangers, lodged a request for a general meeting to be called.
At this meeting, Blue Pitch moved that Mr Murray, who remains on as a director of Rangers, and fellow non-executive director Phil Cartmell should be relieved of their duties with Christopher Morgan and James Easdale appointed as director.
Mr Morgan is an associate of former chief executive Charles Green, while Mr Easdale and his brother Sandy, who own McGill's Buses, have a shareholding in Rangers International and have held discussions with Mr Green over acquiring his stake in the company.
On Thursday, Rangers said in an announcement to the London Stock Exchange: "On 16 May 2013, the company announced that it had received a notice requisitioning a General Meeting of shareholders.
"The company is engaged in discussions with a representative of the requisitioning shareholder and the timetable for posting a notice to shareholders has been extended with the agreement of the requisitioning shareholder."
STV understands Mr Murray would contest any attempt to remove him, while the move requires 51% of the company's shareholders to support it for it to be successful.
Under companies legislation, a general meeting called for by a shareholder must be held within 14 days of the notice of requisition, while Blue Pitch was able to do so because it held more than 5% of the entity's share capital.
Previous media reports suggested Dubai equity investor Arif Naqvi was behind the Blue Pitch, but Mr Green stated that the "legal beneficiary" of the firm is Mazen Houssami and Mr Naqvi had decided not to invest.