Memorial in France to remember 'Mad' D-Day piper Bill Millin
Bill Millin marched around the Normandy beaches inspiring soldiers by playing his bagpipes.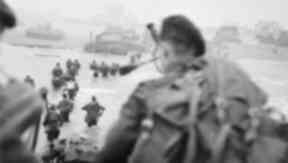 Bill Millin's actions on D-Day have made him worthy of remembrance in Hollywood and in a country far from home.
On June 6, 1944, with Europe in the control of Hitler, thousands of Allied troops from Glasgow, Edinburgh, Lanarkshire and all other corners of Scotland stormed the beaches of Normandy armed with their rifles.
Meanwhile, 21-year-old Bill Millin walked on to those same beaches with gunshots and explosions all around him. Dressed in his kilt and playing his bagpipes, a sgian-dubh tucked into his sock was Bill's only weapon against the oncoming German fire.
As personal piper to Lord Lovat and his 1st Commando Brigade, Bill marched around Sword Beach after orders from his charismatic leader, who had defied a War Office ban on pipers.
He played Highland Laddie and the Road to the Isles as fellow soldiers fell all around him. Some injured troops are said to have cheered as Millin walked by, while others called him a 'mad b******'.
After the battle, it is said German troops decided not to shoot at him on the beach, thinking he was insane.
His actions were portrayed in the 1962 movie The Longest Day, starring John Wayne, Henry Fonda, Robert Mitchum and Sean Connery.
On Saturday, Millin's bravery will be remembered once again in the Normandy town of Colleville-Montgomery - near Sword Beach - with the unveiling of a £80,000 memorial statue, a short distance away from the Field Marshal Montgomery memorial.
Around 500 pipers and drummers, including players from Jedburgh in the Scottish Borders, are scheduled to perform at a commemoration parade before the statue is unveiled to Bill's son, John Millin, and hundreds of others. A special party in Millin's honour will be held in the evening.
Ian Macdonald is the Pipe Major of Jedburgh Pipe Band. Fourteen of its members, including four players aged between 13 and 15, will perform on Saturday. They have spent most of this week in France on holiday while taking part in D-Day commemorations.
He said: "We have spent a long time raising money for Bill Millin. We have been involved in the past four years, playing where we can. It will be honour to play.
"On D-Day, Lord Lovat said, 'Come on Bill, give us a tune', when they were face down on the sand being shot at.
"Bill said sarcastically to him, 'Would you like to me to march up and down as well, sir?' 'He said, 'Yes, that is great'. Bill jumped up and did it. You would never get people doing that now.
"These guys don't think it was special. They just think it was their job.
"It is overwhelming. You read what these guys did for us and for the French. Here, Bill Millin is an absolute hero. The love for Bill Millin by the people of Normandy is unbelievable. He is a symbol of their freedom."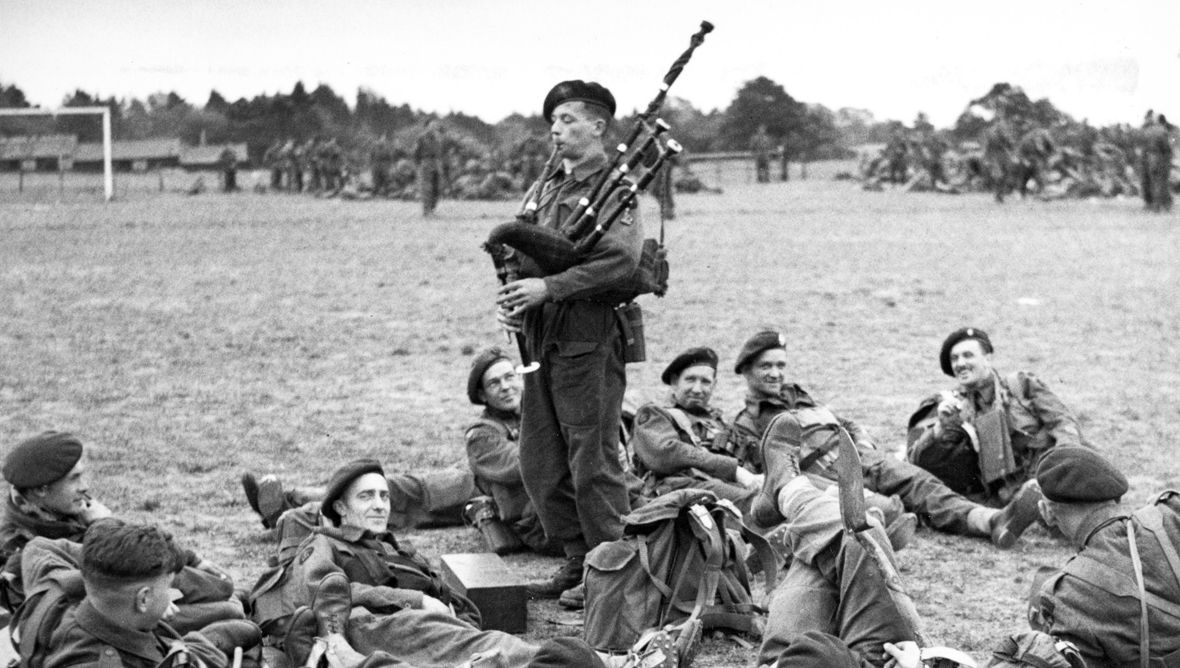 Bill Millin playing the pipes for his fellow troops in 1944.
Mo, Ian's wife and a drummer with the band, has a personal connection to Bill Millin. Her great uncle, David Irvine, is thought to have been in the second wave of boats under Lord Lovat's command and would have stormed the beach not long after Millin started playing.
She said: "I never really knew my Great Uncle. I was very small when he died. A couple of years ago, when we were coming to Normandy for the first time, I mentioned it to my Uncle and he told me David was here. My Great Uncle didn't talk much about it. His story went with him.
"It is an emotional thing to come to but I feel very proud and honoured. It is great to be here in remembrance of my Great Uncle."
Harry Marsden is one of the young members of the band taking part this year. The 14-year-old said: "It means a lot to be here. The story of Bill Millin hits home. I am looking forward to being part of Saturday, to be part of something that is really big. I couldn't do what he did."
Bill Millin was born in July, 1922, in the Saskatchewan region of Canada. His Scottish father decided to return the family home when Bill was three.
He grew up in Shettleston, Glasgow, before moving to Fort William. He played in a number of pipe bands in the region before volunteering to be one of Lord Lovat's commandos.
After the war, he worked as a psychiatric nurse in Glasgow and retired to the Devon town of Dawlish in 1988.
Bill made regular trips back to Normandy throughout his life, including a trip in 2009 when France awarded him the Croix d'Honneur award for gallantry. He died in 2010.
Magnus Orr, from Edinburgh, has played a role in organising Saturday's event through his Pipefest website. He has promoted the occasion and, through him, many pipers from France and England will be joined by others from Germany, the Netherlands and the United States of America.
He said: "There are so many people inspired by Bill Millin's story. He doesn't just represent piping - it represents the whole liberation of Europe. If it wasn't for people like Bill Millin, we could all be living in a completely different environment."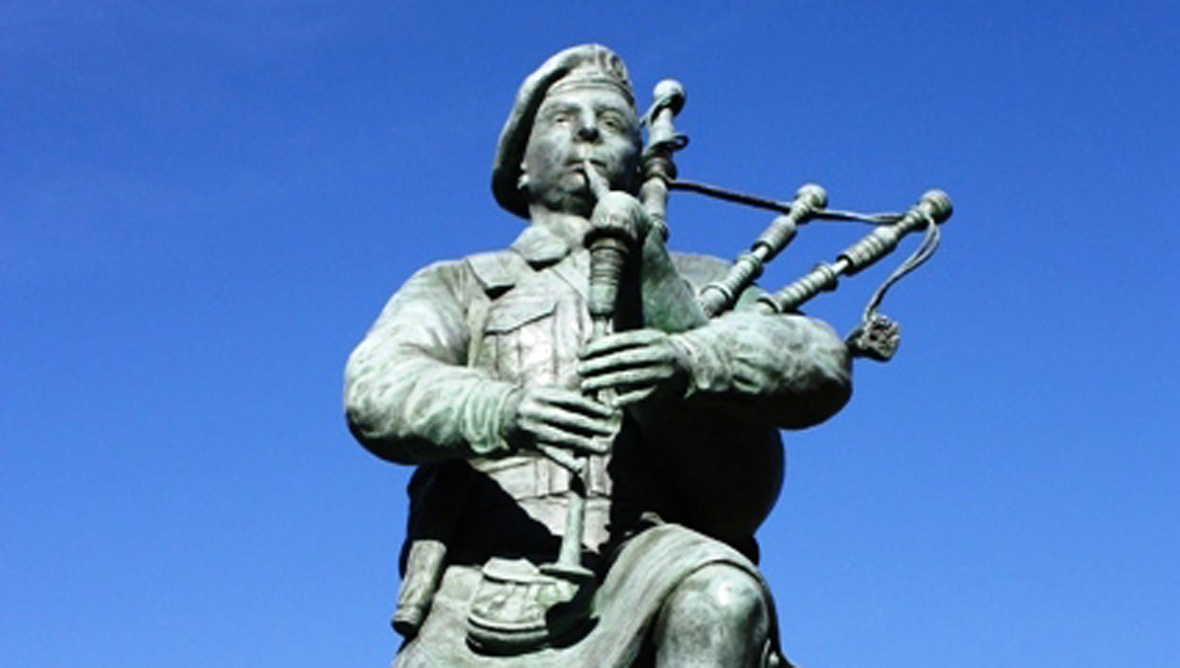 A model of the Bill Millin memorial
Roddy MacLeod MBE is the Principal of the National Piping Centre in Glasgow and is regarded as one of the leading exponents of the instrument in the world.
For the 50-year-old, Millin represents a celebrated chapter in the history of pipers. "Bill Millin symbolises the ultimate regimental piper. His duties would have been to inspire the troops and keep their spirits high," he said.
"On the D-Day landings, he demonstrated heroics in the extreme. You would find it jaw dropping to believe he would put himself in that position of danger to inspire the troops.
"There has been a long tradition of pipers in the various military campaigns, leading the troops into battle, playing to inspire our own troops and instil fear in the troops of the enemy. Unfortunately, many pipers have lost their lives performing these acts.
"Millin survived it and was able to live to tell the tale. It is wonderful news that they are going to commemorate this bravery with a statue in France."
For those in Normandy on Saturday, it will be a chance to remember Millin's incredible bravery, a chance to remember the sacrifice of many that he inspired on that beach, and a time when men put aside their own safety to fight for a greater cause.