Silliness and songs as Helen Arney stands up for science in Glasgow
The comedienne is bringing together music, comedy and science at the Glasgow Science Festival.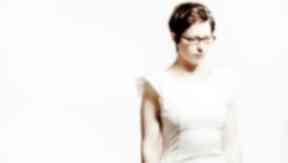 Helen Arney says comedy lovers attending one of her shows at the Glasgow Science Festival can hope to have at least one "lightbulb moment" during her act.
On top of the laughs you'd expect from a stand-up performer, audiences have the extra bonus of being able to learn trivia about the sun or pick up a factoid about animals in Voice of an Angle at Blackfriars.
As a member of science comedy trio Festival of the Spoken Nerd, Helen's previously entertained in the east for the Edinburgh Festival Fringe but is bringing her blend of science, songs and silliness to the strand for adults at the Glasgow Science Festival.
She explained: "I want the audience to go away entertained but they'll hopefully have a lightbulb moment where they'll actually find out something they didn't know. It's a bit of extra value than your usual comedy shows.
"I just think science festivals are wicked, the whole point in them is to engage with the public, but not in an educational way that school does. It's cutting edge stuff that lots of us talk about and play about with but maybe don't realise it.
"It's good for children and adults but nothing about it is trying to be worthy or trying to be educational - science festivals are fun and exciting to be a part of.
"It's brilliant that it's not just aimed at children, adults can come along to have a science show, have a drink and enjoy my nerdy humour.
"It combats those negative thoughts that you had when you were at school and the feelings you had about the teachers you didn't like and the experiments that didn't work."
Her packed few days in Glasgow include the Voice of an Angle gig, but Helen is also headlining Bright Clubs Meets Skeptics where the city's funniest academics try their hand at stand up at the Admiral, and she'll be giving her thoughts on how to find a career in the field, in Science Communication and the Media.
Just a few years ago the thought of speaking at a science event would have been more of a dream than a reality for the performer.
When it came to the all important decision of where and what to study at university Helen decided her flair for playing the piano and oboe would have to take the backseat and she chose to study physics at the Imperial College in London.
After graduating she admits science took a bit of a back seat as she travelled up and down the company for her work, even visiting Scotland to recruit and train lecturers at the University of Glasgow.
She said: "I wanted to be Carol Vorderman when I was younger and I was obsessed with her programme Take Nobody's Word For It which no-one else seems to remember but I loved. Take Nobody's Word For It is actually quite a good motto for a scientist - you can never accept things as they are.
"When I was younger I thought I had to choose between music and science, I choose science because I didn't think I could ever do it as a hobby but things like the Glasgow Science Festival show that you absolutely can.
"I quite liked having my brain expanded for a few years with science but after university I left it behind. It was comedy that sparked my interest in science again. Seeing people like Robin Ince and Chris Addison doing comedy based on what they were passionate about - and I realised that's what I needed to do with my stand-up act.
"I'm now in this position where I get to work with scientists, and there's a slipping scale of knowledge addiction, you can never get enough of it.
"There's a lot of similarities in the way that scientists and comedians work. We would think the sun still orbited around earth if it wasn't for the work of scientists and their thirst to investigate - comedians are the same - we don't just accept things at face value, if we took everybody else's viewpoint it wouldn't be that funny."
Since finding her niche in comedy science Helen has toured across the country with Robin Ince, Professor Brian Cox and Tim Minchin in Uncaged Monkeys and she's taken her solo shows to venues around the UK.
She's now investigating the decline of bees and the idea of science in the home for her two Edinburgh Festival Fringe appearances where she'll be performing with her Festival of the Spoken Nerd colleagues and taking to the stage with new solo material.
But with the rising prominence of stand-up science shows, the popularity of Professor Cox and the burgeoning size of events like the seventh Glasgow Science Festival - is it now trendy to enjoy science?
There's no easy answer to that question says Helen: "It's funny to say that science is getting cool - it's always been cool to people who work in it, but now with things like the Big Bang Theory it's breaking out into other mediums.
"There's always been geek pride but I'm reluctant to say it's cool, because there's an aspect of it where we've taken pride in not being 'cool.'
"One of the best things that happens at a science festival is that people tell us at the end that they didn't think they were a nerd until they listened to us. It's about appreciating science and not caring whether it's cool or not - as long as you're passionate about something that's the main thing.
"I think people are realising there's more to science than bunsen burner experiments at school."
Helen Arney is at the Bright Club Meets Skeptics at the Admiral on June 10, Science Communication and the Media is at the Graham Kerr Building on June 11 between 12pm and 1pm while Voice of an Angle is at Blackfriars from 9pm on June 11.
For full listings go to the Glasgow Science Festival website.