Calm at Clyde FC as East Kilbride neighbours join Lowland League
Clyde agreed to groundshare with East Kilbride FC prior to new league announcement.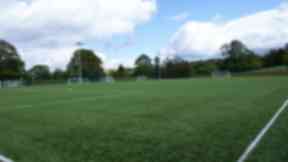 A director at Clyde FC has said he has no concerns about moving to a new town - despite it being occupied by one of the teams competing in Scottish football's newest league.
East Kilbride FC were named as one of 12 teams included in next season's inaugural Scottish Lowland Football League – a central belt equivalent to the Scottish Highland Football League.
Eventually teams in the league will be in with a chance of promotion to the Scottish Professional Football League's lowest tier, which is currently the Third Division where Clyde finished in ninth place last season.
In April the club voted for a future move from their current home at Broadwood in Cumbernauld to East Kilbride where they now plan to groundshare EKFC's K-Park, which is owned by East Kilbride Community Trust.
However their neighbour's new status was always on the cards according to Clyde's commercial director, David Dishon.
Commenting on the announcement by EKFC, he said: "We were never going to be the sole users of the facility - that we were aware of. It will be a big community project, whether it's with youth teams or junior teams or Lowland League teams.
"The more the merrier I'd say because that gets more use of the stadium which is the point of having it."
The sense of community and harmony has also been expressed by those at the facility.
Exciting times for football in East Kilbride, especially for those involved with EKFC. The door is now open for EKFC to become massive

— Graeme KPark (@GraemeKPark) June 17, 2013
However there were fears from some football fans on Twitter about attendances in this new league - and greater concerns about what might happen if Clyde find themselves related to Lowland status.
Traditionally Clyde have found themselves battling it out in the lower half of the SFL's professional league.
@stants1902 @amcnab8 Albion rovers, east stirling struggle to get 150! What is the East Kilbride team made up of?

— Jan Lewicki (@Jan_Lewicki) June 17, 2013
An East Kilbride FC, I wonder what #Clyde fans make of that? From 0 to 2 in the space of a couple months #sfa #lowlandsleague #EKFC #fitbaw

— Chris Marshall (@MrMersh) June 17, 2013
@CallumCarson34 surely that's even worse for Clyde then with both EK Thistle and a potential new senior side to compete with

— Iain (@Christismybitch) June 18, 2013
So in two or three years east kilbride could have 2 senior teams EKFC and EK Clyde

— Willie Pettigrew (@willie1962) June 17, 2013
What chances an East Kilbride FC vs EK Clyde play-off for SPFL status in two years' time?

— Mark Poole (@markrpoole) June 18, 2013
Pending the formation of the new SPFL, play-offs between the bottom division and the Scottish Lowland Football League and Scottish Highland Football League should begin at the end of season 2014/15.
EKFC, recently crowned champions of Division 1A in the Scottish Amateur Football League, now have until May 2015 to meet Scottish FA club licensing criteria.
A statement on the club's website said: "The club has never hidden its ambition to chase the dream of bringing professional football to East Kilbride and this is a huge step forward on our journey.
"We will now be operating in a competition that gives us a direct pathway to the SPFL League Two and the prospect of Scottish Cup football in 2014-15."
The 11 other teams to feature in the league will be Spartans, Threave Rovers, Preston Athletic, Gretna 2008, Whitehill Welfare, Dalbeattie Star, Selkirk, Gala Fairydean Rovers, Edinburgh City, University of Stirling and Vale of Leithen.
The statement continued: "With the likes of Dalbeattie Star and Threave Rovers also joining the Lowland League from the South of Scotland League we had to ponder the best way ahead for our own club's future.
"East Kilbride Football Club will now begin planning in earnest for a future in the Lowland League and look forward to welcoming our 11 new rivals to the town.
"The club has emerged from a process that saw 27 clubs express an initial interest in playing in the Lowland League before 17 formal applications were made. And everyone at EKFC owes a debt of gratitude to tireless club secretary Dave McKenna and Mike Peden for getting us over the line.
"The first General Meeting of the Scottish Lowland Football League will be held on Monday, June 24 with the momentous decision formally ratified at the SFA board meeting three days later.
"We started out on this journey just three years ago and we have taken a lot of knocks along the way but everyone in the EKFC family should enjoy this moment - now for the hard bit."
With the potential of two professional sides in the town, junior side East Kilbride Thistle will be hoping to keep their supporters.
Calvin Berry, who writes match reports for Thistle on STV East Kilbride, said: "Quite a few fans seemed to turn away because of problems they had with the way the club was being run.
"For the people already going to Thistle I don't think a new team will effect them, but neutrals in East Kilbride will probably be more interested in checking out East Kilbride FC as they are the new side in the town.
"Having said that, I think having a second team is good for the area as well."