Glasgow League of Writers assemble to take over comic book scene
Glasgow is home to a thriving comic book scene and hosts many groups of writers and artists.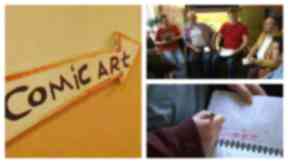 As you walk up the winding stairs to the top of a dark Glasgow close there is very little to give away what may lie inside.
It is not until you reach the end of the final flight and walk into what used to be a flat that you are given a little bit of a clue.
A rubber bat is pinned to the wall, along with posters of cartoons, and an arrow with the words 'Comic Art' points to one of the rooms.
Named the Hope Street Studios, the tenement is the hub of the Glasgow comic book scene with both writers and artists working in the space.
It is a Tuesday night and inside you can hear the quiet mutterings of the Glasgow League of Writers (GLoW).
The group is made up of budding comic book writers who gather every fortnight to discuss their ideas and get feedback.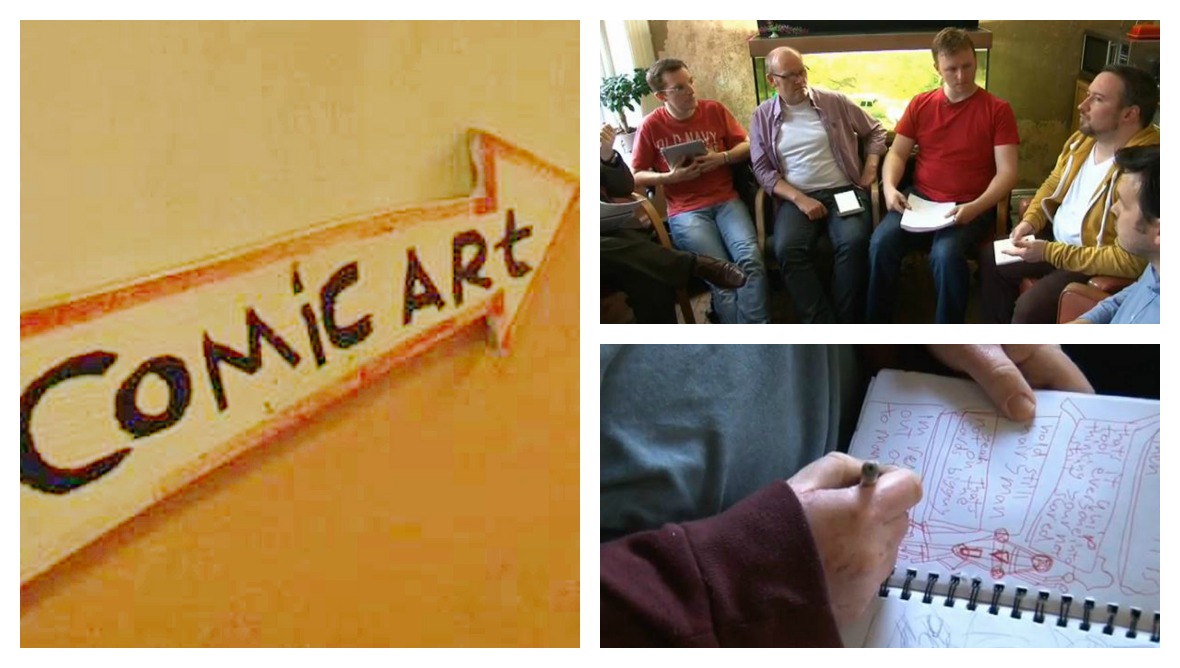 Around ten are sitting in a semi-circle, notepads clasped firmly in their hands containing stories about superheroes and villains, and everything else in between.
The group is the brainchild of 48-year-old Gordon Robertson and he cannot believe how far it has come in just over a year.
"When I started it I just thought it would just be some guys who liked comics but the talent that is in the group is amazing," he said.
"Two of the guys from the first meeting have both won Scottish Independent Comic Book Awards and we have all had things published.
"It started as a mutual support group, a place where we could go, share news, talk about being a comic book writer, workshop scripts and basically just hang about with people with the same interests."
Before each of the meetings members of the group will send out their scripts in advance so that others can gather their thoughts on the work before coming together to discuss.
Gordon said: "One of the things that we have always stressed right from the start is the importance of being incredibly honest with each other's scripts.
"There is no point in us wanting to watch each other's feelings. You only get one shot with a comic book editor."
The group started with just six members and now 28 people regularly attend.
One of those is writer and artist Garry McLaughlin who had his latest creation - a tale of four people who travel into space and are given powers by higher dimensional beings - critiqued by the group.
He said: "It is always a wee bit nerve-racking.
"I kind of knew what a few folk thought about it but you are still putting yourself out there and hoping people will like it.
"The thing that I have written is quite challenging in some ways. It has got really big sci-fi ideas but it is also quite political.
"The fact that most people seem to get that and enjoy it is really encouraging and I hope that eventually translates to it being read by people and enjoyed."
Glasgow is home to a thriving comic book community and GLoW is not the only group that meets in city.
There is also Team Girl Comic started by Gill Hatcher in 2009.
The thriving Glasgow Comic Con, which takes place in July, is also testament to the popularity of the genre as well as new venue openings such as Geek Retreat
For many, Glasgow really is the place to be for comics, not only because the first ever comic book, the Glasgow Looking Glass, came from the city.
Gordon said: "Glasgow is a fantastic place for anybody working in the comic book medium.
"Probably more than any other place in the world, Glasgow has got a disproportionate amount of major comic book talent.
"Grant Morrison, Mark Millar, Frank Quitely, Alan Grant, Jamie Grant are all from Glasgow and quite a lot of them work in this studio.
"There is a thriving and supportive comic book scene and Glow is very much at the heart of that. There is probably nowhere better to be in the world at the minute if you are an aspiring comic book artist or writer.
"I don't know if it is the escapism thing. I'm a child of the late 60's and early 70's and maybe Glasgow was grim and the colour and the brightness of comic books provided a great escape."
Garry added: "For me, it feels like Glasgow is this huge place for comics just now, not just for buying them and reading them but for making them and creating them and writing them and drawing them.
"It does feel like it was in the 80s; that we are on the cusp of a wave of British talent coming through just now and a lot of it is coming from people publishing themselves."
The GLoW members released their first anthology, which sold out in nine hours, at the Glasgow Comic Con last year. Many of the members have also self-published their own comics.
There are also future plans to do much more.
Garry said: "In any creative industry I think it is very difficult to make a living out of it and I think it is very difficult in a massive industry like comics where a lot of it happens Stateside.
"I think it is very difficult to break through that.
"I think we have all been very encouraged by the fact that we do our own stuff.
"We do small press and we do independent publishing. I think, rather than drawing pages and pages of Batman or Superman or writing scripts based on other people's ideas and hoping that an editor notices you, we have all been trying or own things and doing comics that we want to read and we know that other people will want to read.
"It's given us a platform that wasn't always there before."