Comedian Kevin Bridges donates clothes to charity's celebrity sale
Glaswegian joins Olly Murs, Alan Carr and Plan B in helping homeless charity Shelter.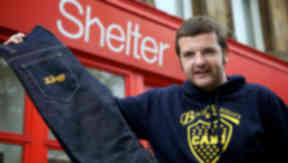 Comedian Kevin Bridges has donated a pair of custom-made jeans and the suit he wore in his first stand-up DVD to raise money for a homeless charity.
The 26-year-old has joined Shelter's summer clear-out campaign, alongside celebrities Olly Murs, Alan Carr and Plan B.
It is hoped hundreds of pounds will be raised in an online auction of the black suit Mr Bridges wore in his Story So Far tour, and a pair of jeans with "K-Dogg" emblazoned on the back pocket which were made during the comedian's BBC One documentary Kevin Bridges: What's the Story?.
The comedian took the clothes to Shelter's shop on Great Western Road, Glasgow, and they will be on display until the end of the auction on Sunday.
Shelter hopes people will follow Bridges's lead and donate old clothes to raise money for families and individuals facing homelessness and bad housing.
Bridges said: "The online auction sounds like a great way to raise money. I wore this suit at the recording of my first DVD but I've lost a bit of weight since then, so anyone who was the same size as me three years ago, get bidding.
"Hopefully people will bid generously on all the items to raise as much money as possible.
"Homelessness is a brutal ordeal so if you've got spare clothes or other stuff you simply don't want or need, get down to Shelter Scotland and drop them off. It takes no time at all and gets rid of all your old Adidas button-up tracksuits and Magaluf 2008 T-shirts — it can make a real difference. Get donating and get bidding."
Other items in the online auction include a trilby hat signed by Mr Murs, a pair of Stella McCartney boots owned by Chrissie Hynde and an Alexander McQueen jacket worn by Mr Carr.
Graeme Brown, director of Shelter Scotland, said: "We're so grateful to Kevin and our other celebrity friends for their outpouring of support and hope the public will get behind us too and donate any old or unwanted items to their nearest Shelter Scotland shop.
"It costs just £10 for one of our experienced housing advisers to help a family in need through our free national helpline. We can raise that money by selling an unwanted dress, jumper or pair of shoes. No donation is too small and every penny will go towards helping people in housing need."