Clydebank sewing machine museum given Recognised Collection status
The collection of more than 800 sewing machines was founded by former Singer workers in the 1980s.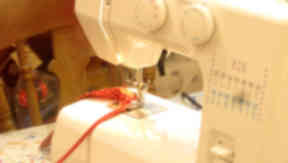 A collection of more than 800 sewing machines has been awarded a prestigious award by Museums Galleries Scotland.
Clydebank's Sewing Machine Collection and Singer Archive is the largest collection of the machines in Europe and a reminder of the town's history.
Between 1885 and 1980, the town's Singer sewing machine factory was a vital part of the Clydebank economy, at its height employing 16,000 workers.
When the plant closed a group of former employees asked the company if they could have some old machines to start a museum, which has now become Scotland's 39th Recognised Collection of national significance.
Ray Macfarlane, Chair of Museums Galleries Scotland's Recognition Committee, said: "The quality and importance of this collection is unequivocal and it is not only of national but of international significance. This is reflected in the collection being the largest in Europe of its kind and second only to the Smithsonian Institution globally."
The museum is cared for by West Dunbartonshire Council, who expressed their gratitude to people who had donated old sewing machines to the collection over the years.
Cllr Michelle Stewart, the council's convener of educational services, said: "The Singer factory in Clydebank is a big part of our history and touched the lives of nearly every family in Clydebank.
"We are delighted to receive this national recognition for our collection and it is a credit to everyone over the years who have kindly donated their machines to the museum for others to enjoy."
Managed by Museums Galleries Scotland on behalf of the Scottish Government, the Recognition Scheme ensure Scotland's most important collections are identified, cared for, protected and promoted to wider audiences.
To gain Recognition status a museum must prove that their collection is of national importance. Recognition status brings many advantages for a museum as it opens up access to Recognition funding from Museums Galleries Scotland, increasing their ability to conserve the collection and to explore new ways to enhance their visitor experience.
Culture secretary Fiona Hyslop said: "The Scottish Government's Recognition Scheme identifies and supports the most important, best-quality, collections of historic artefacts and artworks held in our museums and galleries.
"I urge everyone with an interest in Scotland's rich culture and heritage to search out, explore and learn about the many historical treasures held in our brilliant Recognised Collections."