Bollywood film Kick starts two-week shoot in Glasgow city centre
Hindi action film is latest in a line of big-budget productions to be filmed in the city.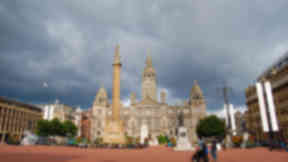 Several roads in the centre of Glasgow will be closed over the next fortnight while scenes for a Bollywood movie are shot in the city.
The area around George Square is affected this weekend, with other areas closed at certain times from Monday. The action film Kick is the latest in a line of big-budget production to use Glasgow as a backdrop, including World War Z and Fast and Furious 6.
Filming started with a car crash scene shot on Saturday morning.
A spokesman for Glasgow City Council said that all roads will remain open for pedestrians and businesses would also stay open.
He said: "The filming team are making every effort to minimise the impact of the filming on businesses in the community. Experienced locations crew will deal with the complexities of filming in an urban environment and will work with the residents to address issues such as deliveries within the enclosure zones.
"The streets will be carefully marshalled by filming staff and by Police Scotland during filming hours. It is important to emphasise that pedestrian access to the streets will be maintained although routes may vary, and all businesses will remain open. However, if you need to walk through the area being seen by the camera, you may be asked to stop for a couple of minutes while filming commences.
"If necessary you will be redirected and can continue out of the filming sight line. Personnel will also be placed in doorways to co-ordinate movement in and out of buildings."