Loch water warning issued as two dogs die suddenly after swimming
Notices have been put up around Loch Eck warning of hazardous cyanobacteria and blue-green algae.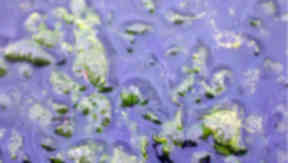 Swimmers have been warned not to go into the water at a popular beauty spot after two dogs suddenly died.
Notices have been put up around Loch Eck on the Cowal peninsula near Dunoon warning people to keep away from pockets of blue-green algae discovered along parts of the shoreline.
The alarm was raised by a local vet who called in the council after two dogs collapsed as a result of contact with the water at the end of last week.
Experts from the Scottish Environment Protection Agency (SEPA) tested the loch and found signs of cyanobacteria and blue-green algae. The algae can cause rashes, vomiting, diarrhoea, fever, eye irritations, muscle pains and skin problems among people who come into contact with it.
Public health officials have set up an exclusion zone around parts of the shore and advised people not to go swimming or use the loch for activities like canoeing or water skiing.
Ben Tustin, Senior Environment Protection Officer, at SEPA confirmed samples taken from various locations around the loch in response to reports of dog deaths had revealed the presence of cyanobacteria.
Despite the name 'blue-green algae' the blooms can appear blue, black, dark brown or red and cannot always be seen with the naked eye. The toxin is naturally occurring, especially in warm temperatures and bright sunlight, and can kill fish, birds, livestock and other animals.
However, despite the dangers of swimming in the loch officials from Scottish Water said there is no danger to the drinking water supply.
Public Health Manager, Margaret McGuinness, said: "While Loch Eck is a water supply source, it contains untreated, raw water. Water from the loch is treated to the highest standard to ensure it is fit for consumption at customer taps. Water quality from the treatment works is constantly monitored and remains fit for consumption."
The advice warning people to stay out of the loch is likely to remain in place for at least a week until new samples confirm algae levels have fallen. Until then Argyll and Bute Council has alerted local health staff and other agencies to be on their guard against anyone falling ill.
Sandy Taylor, lead councillor for Planning and Regulatory Services, said: "Our environmental health team have been working with all the other agencies involved, including NHS Highland, to make sure this problem is under control.
"So far there are notices around the loch and local businesses and residents are aware of the problem and what they should do to protect themselves and their animals after a letter with advice was distributed.
"It is important that everyone heeds the advice issued by the council and I would ask people to pay close attention to these warning until the problem subsides."