Four Glasgow restaurants chosen for UK Curry Capital championships
KoolBa, Mister Singh's India, Mother India and Ashoka Southside are in the running.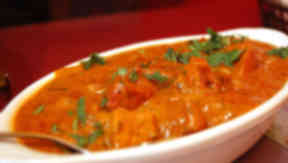 Four Glasgow restaurants are competing to gain the city the UK Curry Capital title.
Members of the public voted to compile the shortlist of restaurants in the city, which resulted in KoolBa, Mister Singh's India, Mother India and Ashoka Southside being nominated.
They will be Glasgow's representatives in the national competition, which will see it attempt to regain the title currently held by Bradford.
Glasgow City Council said 4000 votes were cast for 76 Indian restaurants across the city as part of the process to select the final four.
Lord Provost Sadie Docherty said: "This city is spoilt for choice with so many wonderful Indian restaurants.
"The public have nominated KoolBa, Mister Singh'sIndia, Mother India and Ashoka Southside as outstanding restaurants and I wish them the very best of luck in this competition."
The competition involves the chosen restaurants staging a charity event in the lead up to the final. Proceeds from it will go to The Curry Tree Charitable Fund to aid the poor and undernourished around the world.
A team of independent judges will also secretly visit the nominated restaurants as part of the process, while the top three cities will be announced on October 20 before the final winner is revealed a week later.
The council said it will produce a bid document demonstrating why Glasgow deserves to win and the public has until Friday, September 13, can [vote Glasgow as the winning city online](www.glasgow.gov.uk/currycapital
event guid="968-the-smurfs-2" view="event-detail"