Asylum bosses under fire over 'going home is simple' posters
Posters on display at Glasgow office criticised by campaigners and politicians.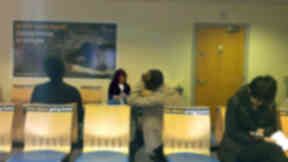 A poster campaign encouraging asylum-seekers to return home has come under fire.
The posters, which are on display in the Glasgow office of the UK Border Agency (UKBA), include the slogan "Is life here hard? Going home is simple".
The Home Office defended the posters but they have been condemned as "racist and offensive" by a campaign group while an MSP called them "abhorrent".
The displays follow a UK Government pilot scheme south of the Border which has seen mobile posters advising those not eligible to remain in the UK to go home.
However, Glasgow-based group Positive Action in Housing, which has revealed the use of the posters at the UKBA's Brand Street offices, compared the wording to a "classic racist taunt".
Director Robina Qureshi said: "This poster campaign is racist and offensive. 'Go Home' is the classic racist taunt used for decades in this country by fascists and racists against ethnic minorities.
"The wording also assumes that asylum seekers are after an easy life in the West, and should turn back. If there was a parallel campaign telling patients in A&E hospitals not to turn up there would be a public outcry. Is this the UK Government's message to the new refugees coming in from Syria?"
SNP MSP James Dornan, who represents Glasgow Cathcart, also linked the UKBA campaign to the humanitarian crisis in Syria.
Mr Dornan said: "I am writing to Home Secretary Theresa May to find out if she thinks this type of manipulative messaging to people in very difficult situations is appropriate or not. Did she authorise this campaign? And if not, does she approve of it? And will she commit to ending the use of this inflammatory language immediately?
"We only have to look at the terrible events in the Middle East right now to see what 'home' can be like for some of these people. There upwards of 1300 Syrian asylum seekers in the UK – undoubtedly including some in Glasgow – does the Westminster Government really think it is appropriate to be telling people like them that it is 'easy' to 'go home'?"
The "abhorrent xenophobic campaign" was out-of-step with mainstream Scottish attitudes towards asylum, Mr Dornan said, adding: "I strongly condemn this poster campaign by the UKBA and urge them to reconsider this so-called pilot and remove their extreme tactics from Scotland."
However, the Home Office insisted the posters were aimed at providing "sensitive advice and assistance" to those ineligible to remain in the UK. "Those with no right to remain in the UK should leave voluntarily," a spokesperson said.