Syrian aid collection points set up in cities across Scotland
Syrians in Scotland calling for more aid and international assistance for those caught up in crisis.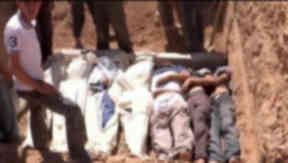 Syrians living in Scotland are calling for more aid and international assistance for families caught up in the crisis in their homeland.
A nationwide day of action on Saturday saw collection points set up in Glasgow, Edinburgh and Dundee.
Each city saw a steady stream of donations — everything from baby milk, nappies, clothes, school supplies and blankets were handed in.
In Aberdeen and Glasgow, anti-war protesters showed their opposition to military strikes as campaigners hailed the UK parliament's vote against British intervention in Syria.
The United States remains poised for a military strike against Syria after setting out "compelling" evidence against Bashar Assad's regime.
US secretary of state John Kerry said the American intelligence community had "high confidence" that the regime launched a chemical weapons attack on the outskirts of Damascus last week and put the death toll at 1429, including 426 children.
In a passionate speech in Washington, he urged the world to act as he warned "history would judge us all extraordinarily harshly if we turned a blind eye to a dictator".
UN inspectors left Syria on Saturday bound for Holland after gathering evidence.