Family and friends of missing Michael Slaven in city centre search
They will also canvas people for information on the missing electrician around the St Enoch Square area of Glasgow.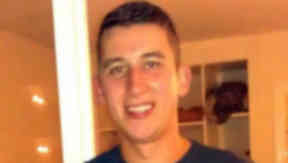 Family and friends of missing Michael Slaven will carry out a search of Glasgow city centre in a bid to find him.
The 23-year-old was last seen in the St Enoch Square area at around 2.45am on Friday after being on a night out with friends in Queen Street's Sugar Cube nightclub.
His sister Monica confirmed there is a possible further sighting of Mr Slaven climbing on a flat roof at St Andrew's Cathedral at around 2.50am.
The electrician's father John said his family fear Mr Slaven has come to harm since his disappearance.
On Wednesday, family and friends of Mr Slaven, of Dumbarton, West Dunbartonshire, will search the area around St Enoch at midday and 7.30pm.
They will also be canvassing people in the area and distributing flyers with information of Mr Slaven's disappearance in a bid to trace him.
CCTV footage of Mr Slaven at the Queen Street branch of the Subway sandwich shop, shortly after he left the club and before he was last seen, has been released as the search for him continues.
Mr Slaven is described as around 6ft, of slim build with a fair complexion. He is clean shaven with short brown hair and brown eyes.
When last seen he was wearing a white T-shirt with a grey square emblem on the chest, olive green chino trousers and dark plimsolls.
Anyone with information is asked to contact Inspector Steve Grimason at Dumbarton Police Office on 101.