Rangers opposition group denies 'vote of confidence in board'
The latest in the battle between opposing factions of shareholders in the Ibrox club.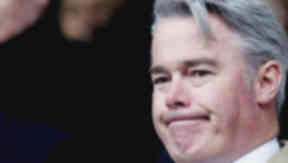 The opposition group of Rangers shareholders have stated that a proposed deal over new directors does not indicate it has a "vote of confidence" in the current board.
Rangers International Football Club plc announced to the stock exchange on Wednesday it had received a request for new directors to be appointed.
Former Rangers chairman John McClelland, ex-Ibrox director Paul Murray and Frank Blin, who was executive chairman of PricewaterhouseCoopers, are recommended for appointment.
The negotiations between the opposing shareholder factions have also resulted in the proposal to appoint Sandy Easdale, a small shareholder and brother of current director James, to the board.
It comes as the board tries to avoid a general meeting that the disgruntled group called for in an attempt to remove current chief Craig Mather, finance director Brian Stockbridge and director Bryan Smart.
Rangers claim the general meeting would cost Rangers needless expense in the run-up to its first annual general meeting (AGM) that is expected to take place in October.
On Thursday, Mr Murray released a statement through Press Association Sport. It read: "On behalf of the requisitioners we have made it clear to the Rangers board that we are proposing the additions to the board now to enable it to operate more effectively as a balanced unit in the run-up to the AGM in October.
"However we have also made it clear that, in accordance with the club's articles of association, all directors, both existing and new, have to offer themselves up for re-election at a vote at the AGM. We believe that this is fair and gives all shareholders the opportunity of voting for who they want on the board.
"We agreed this position with the board on Tuesday and were therefore surprised to see the statement issued by the club on Wednesday night which seemed to suggest that any agreement was conditional on a 'vote of confidence' in the current board members now and on a continuing basis.
"We wish to make it clear that this is contrary to our understanding of the agreement we had with the board. Whilst we believe that the proposed changes will make the board more effective and balanced, it is for the shareholders to vote on the re-election of all directors at the AGM."
Mr Murray, who is part of a group of disgruntled shareholders backed by Clyde Blowers Capital chairman Jim McColl, was previously a non-executive director of Rangers oldco, which is now in liquidation, from September 2007 to May 2011 after Craig Whyte acquired Sir David Murray's 85% shareholding for £1.
Mr McClelland was chairman of Rangers oldco, which is now called RFC 2012 plc, for more than 11 years until October 2011. Administrators were appointed in February last year after the oldco had run up debts of up to £124m.
Sandy Easdale, who was jailed for VAT fraud in 1997, owns a small stake in Rangers International and has claimed to have entered into a binding agreement to buy the majority of former chief executive Charles Green's shares, however no stock exchange notification has been released in relation to this.
On Wednesday, Rangers said in a stock exchange statement: "The board considers that any decision on any proposal for the withdrawal of the requisition would be subject to the provision by the requisitioners of a vote of confidence and continued support for the current directors and to all necessary regulatory approvals."