Ex-employee of bra tycoon Michelle Mone claims office was bugged
Scott Kilday, 35, made the revelation at an employment tribunal in which he is claiming unfair dismissal.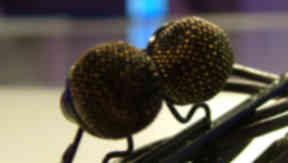 A senior employee of bra tycoon Michelle Mone walked out after discovering his office had been bugged, an employment tribunal heard.
Scott Kilday, 35, said he was left "horrified" on finding a listening device hidden within artificial flowers.
It came shortly after he was asked to resign from his post as a director at Miss Mone's MJM International company based in East Kilbride, South Lanarkshire.
Mr Kilday was later allegedly told the bug had been planted for "business strategic reasons".
Mr Kilday made the accusations on the first day of his employment tribunal in which he is claiming unfair dismissal against MJM.
The hearing in Glasgow was told how matters became "difficult" within the lingerie company after Miss Mone split with her husband and business partner Michael in December 2011.
Mr Kilday said: "It all became a bit disjointed and basically there came a time Michelle and Michael could not sit in the room together.
"With both being majority shareholders it was very difficult to get any decision made, which ultimately was the fall of the business."
Mr Mone eventually left MJM days before another company - MAS Holdings - bought into the business in February this year.
Mr Kilday, of Glasgow, said that around the same time Miss Mone asked him to resign as a director.
He told the tribunal: "She said that MAS had asked for me to resign as director for the sale of the company to go through.
Mr Kilday's lawyer John McMillan asked: "What was your reaction?" He replied: "Obviously I was not particularly pleased, but I acknowledged it with Michelle and afterwards I sought legal advice on my position."
He considered resigning because he felt he could not trust Miss Mone and he then set-up a meeting with the chairman of MJM, Eliaz Poleg.
But just days before this meeting, Mr Kilday claimed he then discovered a bug in his office.
Asked how he found it, Mr Kilday explained: "It was by chance more than anything else.
"We actually had a tanning product at the time and just in front of the plant pot I had samples of this product.
"They were sitting there not in a particularly tidy state. This day when I looked over they were in a tidy state to which I found very unusual. I went over, had a look in the pot and seen a cable coming out, which was wrapped around the artificial flowers."
Mr MacMillan asked what his reaction was and Mr Kilday replied: "Horrified."
The lawyer also quizzed Mr Kilday on how long he thought the device had been there.
Mr Kilday said the only information he discovered was that Miss Mone had been signing in late at night to the offices using her husband's "swipe in" card after Mr Mone had left the company.
Mr Kilday later confronted an official from MAS - Kanishke Manakkara - about the bug, who denied any knowledge.
But, the tribunal heard that it was accepted that the bug had been set up for "business strategic reasons" and that it was Mr Poleg who authorised it.
Mr MacMillan asked what Mr Kilday did after the discovery and he said: "I left."
It emerged that Mr Kilday now works for Mr Mone's company Pendulum Apparel. MJM contest the claim of unfair dismissal and the hearing continues.