British drug mules plead guilty to trafficking in Peru court
Melissa Reid and Michaela McCollum-Connolly face years in prison after being caught with 11kg of cocaine.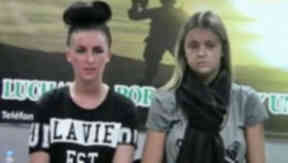 Two British women have pled guilty to drug trafficking in a court in Peru.
Melissa Reid, 20, from Lenzie, East Dunbartonshire, and Michaela McCollum-Connolly, 20, from Northern Ireland, admitted their crimes at a private hearing in Lima on Tuesday.
Reid previously said she planned to plead guilty to shorten the likely sentence.
The pair are currently being held in an assessment centre in Lima after being arrested with £1.5m worth of cocaine at Lima Airport in August and could face years behind bars. They were told that if they plead guilty, they could face a minimum of six years and eight months in prison with no eligibility for parole.
A spokesman for the court said sentencing would likely take place in a week.
Reid had been working on Ibiza for the summer when she was caught at the South American airport. Peruvian police said they found around 11kg of cocaine hidden inside food packages as the women attempted to board a flight from Lima to Madrid.
The pair claimed they were forced to carry the drugs by an armed gang who threatened them and their family members.
According to Peru's national prisons institute, 90% of the 1648 foreigners in the country's prisons are either sentenced or awaiting trial for drug trafficking.
Speaking outside the court in Lima, lawyer Meyer Fishman said he could not comment until the young women were sentenced.