Jewellery thieves 'took £400,000 of Rolex watches in 33-second' raid
Jury told how pair, carrying machetes and hammers, made off with haul of luxury watches after raid in Renfrewshire.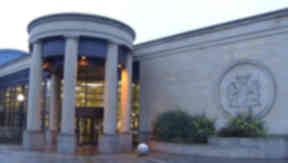 A jewellery shop was robbed of £400,000 worth of Rolex watches in just 33 seconds, a court heard.
A jury at the High Court in Glasgow was shown CCTV footage of three masked men at the Renfrewshire store as they carried out the raid.
Alan Mitchell, 34, and Gary Mitchell, 20, deny robbing Eric N. Smith Jewellers in Ayr Road, Newton Mearns, on April 13, of a quantity of watches by brandishing a machete and hammers at staff and smashing display windows.
Prosecutor Sheena Fraser played a clip of the raid which started at 2.29pm and finished at 2.30pm with three men running out the shop.
Jewellery store owner Yvonne Smith, 52, said that up until then it had been an ordinary Saturday. Mrs Smith and her husband, five employees and some customers were in the store at the time.
She said: "The first thing I was aware of was a really loud bang. It was like a gun going off. I ran towards where the noise was coming from. There were three men coming into the shop with masks and carrying a machete and two hammers. They kept shouting 'Get back, get back'."
She told the court the man armed with the machete stood guard over them while the other two smashed a display window of Rolex watches.
The court was told that the high-value watches ranged in price from £3400 up to £50,000. The 38 Rolexes taken from the jewellery shop were worth £400,000. A number of other watches were damaged in the raid and Mrs Smith estimated the damage at £210,000.
The jury at the High court in Glasgow was shown CCTV which showed three masked men walking along Ayr Road towards the shop and carrying a large piece of concrete. The concrete block was rammed in place to hold the front door open.
In court, Mrs Smith identified the pair as the two men she saw in the shop. She told the court that she thought Alan Mitchell was the leader and added speaking of Gary Mitchell: "I think he was the one with the machete."
Earlier she had described the man with the machete as "jumping up and down like a boxer with the machete and making an upwards stabbing motion".
The court heard that as a result of the raid new security measures were installed in the shop.
The trial before judge Lord Jones continues.