New year movements for Glasgow City Ladies
Champions Glasgow City have announced the signing of two new players for the team, who will replace two women retiring due to work commitments.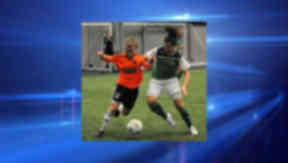 Some fresh faces are joining champions Glasgow City Ladies FC this season as defender Nicola Docherty signs to the squad from Rangers and fomer Celtic player Leanne Crichton joins from Hibernian.
The news comes as two city stars - Clare Gemmell and Jill Paterson - have been forced to retire from the game due to demands from work commitments.
Docherty, 19, has played at all Scottish youth levels and debuted for the full national team last year, facing Finland in September.
Midfielder Crichton, 24, said she was looking forward to the next season: "I am delighted to have signed for Glasgow City.
"It is an opportunity that I never thought I would get. I am hungry for success and at a stage of my career where I feel ready to take that next step.
"It's a great team with a great set up and great players. I am excited for the season ahead."
City Head Coach Eddie Wolecki Black said: "I am delighted to have secured the signature of Leanne, there is no doubt she is a very talented player.
"She has game intelligence, great vision and a range of passing that is without limit. Add the fact that she is brave and wants the ball all the time then this signing is very significant in our development as a team.
"I have admired Nicky's ability for a number of years now and I am delighted she has decided to join us. She fits the bill perfectly and has all the ingredients I look for in a Glasgow City player and defender.
"She is still a very young player and supplements our already young and very talented side. I have no doubt we will begin to see the very best of her over the next few seasons and I am thrilled it will be in a Glasgow City shirt."
Crichton and Docherty joined the squad as midfielder Clare Gemmell and defender Jill Paterson both took the difficult decision to leave, citing the impossibility of balancing playing football at a high level with the demands of full time working careers.
Gemmell, 25, joined city from Celtic in 2008 and had the distinction of starting every single Champions League game for the team.
The player struggled to balance a career in the Police force with changing shifts alongside the high training and playing commitments for city both at home and abroad.
Paterson – who played in a variety of positions during her time in the team – joined in 2007 and contributed to the tremendous success of the squad, winning the last five Premier League titles, two Scottish Cups, and two Premier League Cups.
The defender, a 24 year old PE teacher, said she couldn't take time off work for the upcoming Champions League:
"I will really miss it, I loved my time at city.
"It was a very hard decision to make and one I had been thinking about for a long time, but I can't afford to take time off work for the Champions League and as a player that's where you want to play.
"I know the team will continue to improve and I wish the girls all the best for the future."
The movements in the squad come at the end of a successful year for the ladies, who battled to win a place in the last 16 of the Champions League before being knocked out by Germany's Turbine Potsdam in November.
At home, the ladies won the domestic Premier League for the fifth season in a row and scooped the 'Amateur Performance of the Year' trophy at the sportscotland Scottish Sports Awards in December.