Kilsyth quarry blast investigation to begin
Homes were damaged by flying rocks after a controlled explosion on a building site went badly wrong.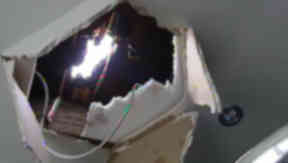 Health and safety officers are beginning an investigation into an explosion at an old quarry which caused damage to several homes in Lanarkshire.
Officers from the Health and Safety Executive have visited the former Barrwood Quarry in Kilsyth's Stirling Road on Friday.
A controlled explosion on the site went wrong about 2pm on Thursday showering homes only hundreds of metres away with rocks. At least five homes were damaged.
One homeowner, Betty Wilson, spoke of her lucky escape after rocks crashed through her Stirling Road home and landed in the shower area of her bathroom.
She told STV News: "We were warned this morning (Thursday) there was going to be an explosion at 2pm. I was up in the bedroom. They said this time it wouldn't be as bad as the last one, because it was further away.
"All of a sudden, all hell let loose. It was awful. I heard all this crashing, all this glass breaking. A brick had come through my roof into the toilet. If I was on that toilet, I would be dead."
Amazingly, nobody was hurt in the incident. Firemen searched and evacuated all houses nearby while the building site was secured by officers from Strathclyde Police.
A new housing development is currently being built at the old quarry by Dawn Homes. The company said: "We can confirm that an incident involving a controlled blast at the Stirling Road Kilsyth site took place shortly after 2pm today (Thursday).
"There were no reported injuries. Unfortunately debris from the controlled explosion exceeded the perimeter of the safety exclusion zone set by the specialist blasting contractors on site.
"It has been confirmed that there were no injuries to local residents or passers-by. There has been some damage to local properties and Dawn Homes regrets any inconvenience to those neighbours and local people affected and has asked anyone who has suffered damage to their property to report this to the principal contractor on site, Dow Haulage Ltd on 01236 730730."
IN DETAIL