Plans unveiled for £10m whisky distillery on banks of River Clyde
The facility would be located at Queen's Docks in the city.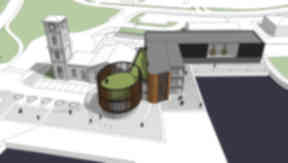 Plans have been unveiled for a new £10m whisky distillery on the banks of the River Clyde in Glasgow.
The facility would include the revamping of the pump house building at Queen's Docks in the city, located near the Riverside Museum.
A planning application has been lodged with Glasgow City Council by the Scotch whisky businessmen behind the project, which is supported by Scottish Enterprise.
Backers said the development would create 300 construction jobs and the distillery and visitor centre would employ up to 25 workers.
Tim Morrison, who is formerly of Morrison Bowmore Distillers and is current proprietor of the AD Rattray Scotch Whisky Company, is among those behind the proposals.
He said: "We see this project as having huge potential – not only for Glasgow, but for the tourism industry, the Scotch whisky trade and the whole Scottish economy. Our vision for the new distillery and educational visitor centre is that it becomes a part of Glasgow's busy tourist trail – we anticipate it will attract more than 50,000 visitors each year.
"We've had a great deal of support for this project so far – from local businesses, the public sector and those within the industry, and we have taken the next important step in helping to make this project a reality by submitting a full planning application to Glasgow City Council for consideration."
The plans include a visitor centre and small batch single malt Scotch whisky distillery that backers believe could be completed by mid-2015.
Glasgow Kelvin MSP Sandra White said: "Having met and discussed these proposals with a delegation representing the proposed 'pump house' development, I was extremely impressed with the plans and enthusiasm shown.
"I truly believe this is a fantastic opportunity to re-establish Glasgow's historic whisky heritage. Not only this but it will also greatly improve the regeneration of this area of Kelvin, while also benefiting the whole of Glasgow through increased tourism as well as a much welcomed influx of both construction and service industry jobs."