Madeleine McCann: Around 1000 calls after TV appeal over disappearance
The Metropolitan Police welcomed the response to its TV special on Monday.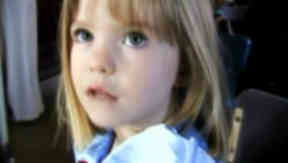 Almost 1000 calls and emails have been sent in response to a fresh appeal over the disappearance of Madeleine McCann.
There have been more than 730 calls and 212 emails as a result of "specific lines of inquiry" about the events leading up to and surrounding Madeleine's abduction in Portugal on May 3, 2007, Scotland Yard said.
Senior investigating officer Detective Chief Inspector Andy Redwood said detectives are working through the calls and material received in response to Monday night's BBC Crimewatch programme.
He said: "We have now had over 730 calls and 212 emails as a direct result of the specific lines of inquiry we issued yesterday concerning events in the lead-up to, and on the night of Thursday May 3 2007 when Madeleine was abducted - 330 calls into the Operation Grange incident room, 400 to BBC1 Crimewatch.
"Detectives are now trawling through and prioritising that material. This will take time."
A reward of up to £20,000 is being offered for information leading to the identification, arrest and prosecution of those responsible for Madeleine's abduction, he said, adding that there are 40 people waiting to answer calls at any time, and officers waiting to "action the information".
Crimewatch editor Joe Mather said the response to the programme was "truly unprecedented". Some callers had given the same name for a man spotted carrying a child towards the beach in Praia da Luz.
E-fit: Police released these images as part of the fresh appeal for information.
Madeliene's parents, Kate and Glasgow-born Gerry McCann, urged people to "rack their brains" and come forward with information.
Mrs McCann said: "Please, please have the courage and confidence to come forward now, and share that information with us, and you could unlock this whole case, so please." Her husband, who in a live interview on the show said they were "hopeful and optimistic", said people should find hope from recent cases in which abducted children had been found after long periods.
He added: "These cases can get solved, and I think that's what the public need to think about tonight, the new information, and really rack their brains and come forward, really."
During the show, two new e-fits of a man were broadcast, while police said they had effectively ruled out a previous key sighting of a different man carrying a little girl - suggesting Madeleine may have been taken closer to 10pm that night. Viewers were shown two images of a dark-haired man, based on descriptions from two witnesses who were staying in Praia da Luz when the three-year-old went missing.
Witnesses described the man in the new e-fits as white, aged between 20-40, with short brown hair, of medium build, medium height and clean-shaven.
Investigators are also trying to identify mysterious fair-haired men seen "lurking around" the apartment at the time who could be Dutch or German, and TV appeals will be run in Holland and Germany. Two e-fits of the fair-haired men have been released.
One is of a man seen twice by the same witness near the flat where the McCanns were staying. He was 30 to 35, thin, with short hair, shaving spots on his face and was wearing a black leather jacket. Another witness saw a similar-looking man in the resort.