Five Irish Republican terror suspects charged with conspiracy to murder
Four men and a woman arrested in Scotland last week to appear in court charged under Terrorism Act.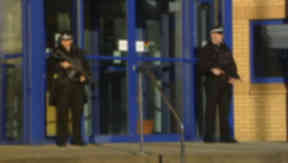 Five Irish Republican terror suspects have been charged with conspiracy to murder under the Terrorism Act.
The four men and one woman, who were detained under the Terrorism Act 2000 in Scotland last week, are expected to appear at Glasgow Sheriff Court on Tuesday.
The four men are aged 26, 30, 34 and 39. The woman is 27 years old.
All five have been held at the Scottish Terrorist Detention Centre at Helen Street in Govan in Glasgow since their arrest on Wednesday October 23.
Under the terms of the legislation, police can hold suspects without a warrant for a period of at least 48 hours, but can apply to keep them in custody beyond that time.
On Friday, Police Scotland confirmed it had been given an extension to this time period.
The five had been suspected of "committing various offences" including commissioning, instigating or preparing acts of terrorism. They have now been charged under section five of the Terrorism Act (2006).
Police said last week they were unable to provide further information about the terror suspects, but said they were not affiliated to any particular Republican group.
The arrests followed a joint operation between Police Scotland, Police Service of Northern Ireland and the Security Service.
At the time of the arrests, Assistant Chief Nicolson said: "Police Scotland has led the operation which has involved a number of officers, including specialist units, and public safety has been a priority throughout.
"We are confident as a result of these arrests there is no risk to the public. It would be inappropriate to comment further at this stage."