Sixth Scots arrest over suspected Irish Republican terrorism
Five suspects previously appeared in court accused of conspiracy to commit terrorist acts.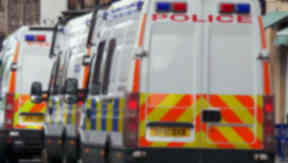 A sixth arrest has been made in relation to suspected Irish Republican terrorism in Scotland.
It comes the day after four other men and a woman appeared at Glasgow Sheriff Court charged with conspiring to commit acts of terrorism.
Martin Hughes, Edward McVeigh, Anton Duffy, Paul Sands and Stacy McAllister are also alleged to have conspired to murder. The four men are aged 26, 30, 34 and 39 while McAllister is 27 years old.
All were charged with planning between February 1 and October 23 at a property on Old Castle Road, Cathcart, Glasgow, to commit acts of terrorism.
They are all accused of plotting to carry out a terrorist campaign in the UK. It is alleged they tried to get a hold of firearms and explosives with a view to carrying out terrorist offences, including "damage to property and murder of civilians".
The five accused were detained at several locations in Scotland on October 23. The operation was led by Police Scotland and also involved the Police Service of Northern Ireland and the security service.
After the operation, Police Scotland said it had focused on the "activities of individuals sympathetic to dissident Republicanism, but who are not affiliated to any specific group".
All five had been held at the Scottish Terrorist Detention Centre in the Govan area of Glasgow. Police were granted an extended detention period under the Terrorism Act on October 25.
In a statement, Police Scotland said: "Police Scotland can confirm today, Wednesday October 30 2013, that a further man has been arrested under section 41 of the Terrorism Act (2000)."