Rangers advertise for new chief executive of 'exceptional quality'
The post has been vacant since Craig Mather stood down earlier this month.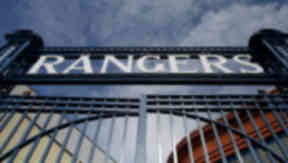 Rangers have advertised in a newspaper for a new chief executive officer amid an ongoing boardroom battle.
On Thursday, Rangers International Football Club plc placed an advert for the role in the Financial Times newspaper.
The post has been vacant since Craig Mather resigned from his chief executive role earlier this month.
Rangers International is still mired in a long-running boardroom battle, with only two directors remaining in the form of finance officer Brian Stockbridge and non executive James Easdale.
Mr Mather had been appointed on an initial interim basis in April before the post was made permanent.
He had filled the role vacated by Charles Green, who stood down amid revelations surrounding his links with Rangers oldco owner Craig Whyte.
The advert for the post stated the role has a "wide and varied remit" and requires a "candidate of exceptional quality and experience who is comfortable in a high profile environment."
It also listed several key responsibilities, including leading and developing the "strategy" of the business, developing and overseeing Rangers International's commercial activity and liaising with the club's supporters, the football authorities and shareholders.
The advert states the salary for the role is "negotiable + benefits". Mr Green earned almost £1m for his ten months as Rangers International chief executive, which included a 100% bonus on his £360,000 annual salary for winning the Scottish Third Division.
Rangers state in the CEO advert that they are looking for an "exceptional business leader in sport with a commercial approach and the ability to innovate" and "proven track record of success within sport".
The Ibrox club are also seeking an "outstanding motivator who can maximise the talent and potential of employees and drive the club back to pinnacle of Scottish and international sport" as well as a candidate with "strong interpersonal skills".
Earlier this month Rangers International returned its first set of financial results which revealed it had run at an operating loss of £14.3m for the 13 months until June 30 this year.
Mr Stockbridge and Mr Easdale are the only two directors left as Rangers International lost a court battle with rebel shareholders led by oldco director Paul Murray.
The opposition shareholders prevented the company from holding its first annual general meeting on October 24 after a Court of Session judge ruled Rangers had to accept a resolution to appoint new directors to the board, which could not be circulated in time for the meeting date. The new date for the annual general meeting has not yet been set.