Rangers appoint David Somers acting chairman as AGM date confirmed
David Somers's appointment was announced to the London Stock Exchange on Thursday morning.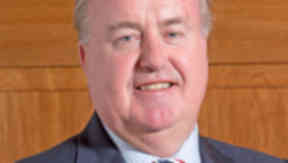 Rangers International Football Club plc has appointed an acting chairman as it confirmed its long-awaited annual general meeting (AGM) date.
Pension fund manager David Somers will take on the role, the company announced to the London Stock Exchange on Thursday morning.
He has also been appointed an independent non-executive director of Rangers International, it confirmed.
While nearly a month after rebel shareholders successfully blocked the planned AGM from going ahead on October 24, Rangers announced the meeting would now be held on Thursday, December 19.
Institutional investors and former oldco director Paul Murray took the company to the Court of Session to postponed the event and force it to consider the appointment of new board members.
In the statement to the stock exchange, Rangers said Mr Somers spent his career in fund management and has "considerable experience" in corporate governance.
The Ibrox club said: "Mr Somers will oversee the current process of appointing a high calibre chief executive officer and further independent non-executive director to form a unified board and provide stability for Rangers.
"In order to allow time for the process outlined above to be progressed, the company will hold its AGM on Thursday 19 December 2013 at Ibrox Stadium."
Mr Somers will have to be re-appointed to the role at the AGM and it is the first time Rangers International have had a chairman since former manager Walter Smith left the role amid growing shareholder unrest in August.
The acting Rangers chairman is a qualified accountant and a non-executive director of Europe Arab Bank plc, which provides corporate and institutional banking and ran at a loss of around £45.9m in 2012.
Mr Somers is also a non executive director of the European subsidiary of the Ace Group, which describes itself as "one of the world's largest multiline property and casualty insurers".
He said in a statement released on the Rangers website the appointment was a "a huge honour and privilege".
Mr Somers added: "I know from my visits to Ibrox Stadium – including a number of Champions League games I attended in the past – that the club has a tremendous fan base. Ally McCoist has the players performing well on the pitch so my task now is to strengthen the board to the level that Rangers Football Club deserves.
"This 141-year-old institution is on the road to recovery and I will do everything in my power to help take this great club back to the very top of Scottish football where it belongs. I have a strong background in finance and corporate governance and while there are challenges ahead I am confident they can be overcome and Rangers can rise again."
He continued: "My priority is to help oversee the recruitment process for a high-calibre chief executive and further independent non-executive directors to strengthen the board and provide long-term stability for Rangers."