Proposals to build mosque on grounds of new secondary school
The growing Muslim community in East Renfrewshire is seeking a place of worship.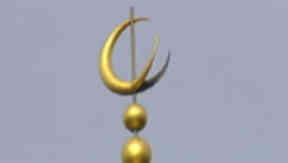 Plans to build a mosque near a new secondary school are being consulted on by a council.
Parents claim the land suggested for the place of worship is not suitable because it belongs to Eastwood High School, which is non-denominational.
The growing Muslim community in Newton Mearns and surrounding East Renfrewshire claim there is a need for a mosque in the area and the proposed site would suit their needs.
East Renfrewshire Council is consulting on the proposals as part of a local development plan.
The proposed site for the religious facility is on the edge of the grounds of the high school in Capelrig Road, Newton Mearns.
It follows from a recent planning appeal upheld by the Scottish Government reporter in the area, to allow temporary change of use of a former British Legion club to be a place for Muslim prayer services in Langrig Road.
The council said the Reporter found there was "demand" for a Muslim facility in the area and ordered the council to work with the community identify a suitable site within three years.
Members of the public have until November 20 to submit their views on the planned mosque.