Bomb-detecting security scanners introduced at two Scottish airports
Prestwick and Aberdeen airports latest in Scotland to introduce devices as threat level remains 'substantial' with attack 'strong possibility'.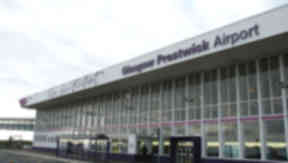 Security scanners to detect explosive devices are to be used at two more Scots airports as the threat level remains "substantial" with an attack "a strong possibility".
In addition to the ten airports across the UK already with these types of scanner, another 11, including two in Scotland, are to have them installed, Transport Secretary Patrick McLoughlin said.
The 11 airports include Aberdeen and Prestwick with Glasgow and Edinburgh already using the hi-tech devices.
The scanners were put into use at airports in response to the threat to aviation posed by non-metallic improvised explosive devices, such as that used in the attack on Northwest Flight 253 from Amsterdam to Detroit on Christmas Day 2009.
In that incident, a 23-year-old Nigerian attempted to ignite an explosive device strapped to his leg by injecting a liquid into it. He was badly burned before being subdued.
Mr McLoughlin also cited the incident in Yemen in spring 2012 when a device intended to explode on a plane was recovered in advance of a United States-bound flight.
He said: "These devices were designed to make detection by existing screening methods extremely difficult. More broadly, the UK threat level remains at substantial: an attack is a strong possibility."
Mr McLoughlin also announced that from Friday, passengers who opt out of being screened by a security scanner will be allowed a private search alternative.
In the past, passengers who refused to be scanned by a security scanner were not offered an alternative, and were not allowed to fly on that occasion.
He added that work was under way with those airports which already deploy security scanners to consider the case for increasing their deployment of them.
Mr McLoughlin said that in the UK, all security scanners now use millimetre wave technology, which has no known health risks and which is quite different from X-ray technology.
He went on: "Furthermore, all security scanners deployed now use automatic threat recognition software, which means that no image of a passenger is produced, thus alleviating any residual health or privacy concerns.
"The overwhelming evidence from airports is that nearly all passengers accept the use of security scanners and find the process quick and convenient. However, I appreciate a small minority may still prefer to request an alternative procedure for a variety of reasons."