Cat reunited with owners three and a half years after going missing
Murphy jumped out the car when his family were visiting Drimsynie Holiday Village in Lochgoilhead in 2009.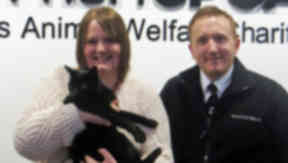 A cat has been reunited with its owners three and a half years after going missing.
The Maloney family went on holiday with their pet Murphy to Drimsynie Holiday Village in Lochgoilhead in 2009.
As they were packing the car to go home to Johnstone, Renfrewshire the black cat jumped out his cat carrier and ran away.
The family searched for Murphy, returning to the area for 18 months, but could not find him.
On Saturday, the ten-year-old moggie was found with a sore eye at the holiday village and taken to the Scottish SPCA. His microchip was scanned and workers called owner Julie Maloney.
She said: "After a year and a half of searching we reluctantly gave up hope of ever seeing Murphy again so we got another cat, a wee female. She's not too happy about Murphy's return but we're sure they'll accept each other in time.
"Murphy has been really clingy these past few days so we think he's glad to be back after such a long time apart from us and of course, we're delighted he's finally home."
Adam Downs, from the Scottish SPCA, said: "Mrs Maloney could not believe it when we called to say Murphy had been found as she had given up all hope of ever seeing him again.
"The Maloneys are regular visitors to the Lochgoilhead area and it was when Mrs Maloney was celebrating a special birthday back in 2009 that they decided to take the whole family, including Murphy, on holiday to join in the celebrations.
"It appears Murphy enjoyed his time in the area so much that he made a run for it when the family were getting back into their car to go home. The Maloneys have been searching for him ever since, returning to the area frequently to look for their much-loved pet.
"Gradually they lost hope of ever finding Murphy again. With the passing years their children grew up and left home and Mrs Maloney eventually rehomed another cat thinking she would never see her beloved Murphy again.
"We were delighted to send Murphy home with his long lost family and he now has Mrs Maloney's daughter's bedroom all to himself as she has since left home and married."