Eyewitnesses give accounts of Glasgow pub police helicopter crash
East Renfrewshire MP Jim Murphy was driving past as the Police Scotland aircraft hit the Clutha Bar on Stockwell Street.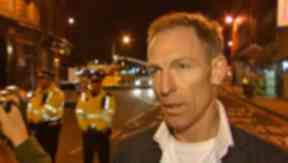 Eyewitnesses have described the moment a police helicopter crashed into the Clutha Bar in Glasgow on Friday night.
Jim Murphy, shadow minister for International Development, was nearby when the aircraft crashed into the popular venue on the banks of the River Clyde. Eight people are now confirmed dead and 14 seriously injured in the crash.
Mr Murphy, who is MP for East Renfrewshire, told STV: "I was just going into a pub nearby and you could hear the noise of the helicopter overhead. I was in the car and got out and walked round to the Clutha moments after the helicopter hit.
"I saw people coming out of the pub. A lot of people were covered in dust. Some were conscious, some were unconscious. There were injuries. Those who were conscious had head wounds.
"The walking wounded told me a band was playing inside. Some inside the pub said they didn't know a helicopter had hit. I didn't see it either - I just saw them coming out.
"I would say there were about ten injured people outside the pub when I arrived. Four or five of them were unconscious. Three or four of the conscious had head wounds."
John McGarrigle, 38, said he feared for the safety of his father, also John McGarrigle, 59, who was in the pub.
He said: "I think he was in there when it crashed. I've checked every hospital and there's no sign of him. I'm very anxious. I'm just going to stand here till I see casualties come out of the building."
Eyewitness John Bremner said he was in Trongate when he saw the helicopter drop "like a 10p piece".
He said: "Literally in seconds it just stopped in mid-air and just fell. It dropped in the most eerie silence followed by a bang. Not even a bang, more a rumble.
"It wasn't that high, maybe 100ft above the Holiday Inn. It was staying there. It wasn't hovering, just there, not purposely.
"It dropped instantly. Like something out of a disaster movie. The lights were still on. That made it stand out. They were still on as it dropped. It just dropped. Like dropping a 10p. Followed by a rumble."
Martine Leitch was inside the Clutha Vaults with friends, who were supporting a friend in the band that was playing at the time.
She told STV: "One of the girls we skate with [in roller derby] were in the band Esperanza. We were down supporting her. We don't normally go along. A lot of the crowd were similar.
"We were sitting at the side of the stage. We saw the wood on the bar buckle out and thought the support had moved. The band stopped and joked about it.
"Then people said 'we need to get out'. Within ten seconds of putting on our coats, the whole place was covered in dust. We kept together and got out. One of the girls we were with didn't come out at first but she was helping others.
"We were right at the stage. You wouldn't have known. We just saw wood buckle at the bar. We thought part of the ceiling come down. Then saw dust and thought it was more serious.
"We thought half the bar had collapsed. We didn't realise the whole ceiling had given way. Within ten seconds there was a lot of dust and we couldn't see. There were a lot of people coming out with blood on the head and face. We were coughing and some were wheezing. It was jam packed, absolutely packed.
"We play a dangerous sport... we didn't think going for a drink would be dangerous."
Mark Weatherall, who was in the area at the time of the crash, said: "Me and my girlfriend saw it happening from about 30 seconds to a minute before it happened. We were walking through the car park at the back end of St Enoch's at the other side of Slaters.
"We could see a bright light shining down and saw it was a helicopter, it didn't take long to realise it was rapidly decreasing in altitude before my girlfriend said it was flying really low. Next thing we heard something pop in the helicopter which I assume was the engine or something mechanical before the helicopter just dropped out of the sky disappearing behind the building looking over Clutha.
"We heard a bang and saw people running towards the scene and when we got round there was a large group outside with casualties being brought out of the pub and people helping them to get out."
Grace MacLean, who was inside the pub at the time of the crash, told BBC News: "There was a ska band on in the pub just at the back and it was fairly busy.
"We were all just having a nice time and then there was like a 'whoosh' noise - there was no bang, there was no explosion - and then there was some smoke, what seemed like smoke. The band were laughing and we were all joking that the band had made the roof come down.
"They carried on playing and then it started to come down more and someone started screaming and then the whole pub just filled with dust. You couldn't see anything, you couldn't breathe."
Taxi driver Michael Bishop, aged 42, heard the commotion but did not realise what had happened.
He said: "I heard this bang, which could've been anything... then my phone started ringing with my wife and sister calling to see if I was okay. I mean you're sitting in a pub drinking, it's the last thing you'd expect.
"There's live bands on there almost every night. There's always people, I pick up from there all the time. Can you imagine going outside for a cigarette and seeing this thing fall out of the sky?
"With the crash and the fire [at a Pitt Street takeaway], it's been one hell of a day for Glasgow."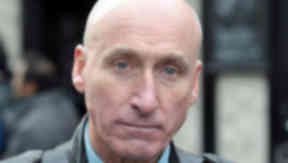 Eddie Waltham was on his way to meet his friend Douglas Naismith in the Clutha when the helicopter crashed into the bar.
The 57-year-old said: "I was making my way towards the Clutha to have a drink and listen to the live music and join my friend who was already in there.
"If I had finished that pint in a previous pub a little bit quicker I would have been standing next to him inside that bar. My friend was then trapped. He has serious shoulder injuries and he's in hospital.
"As I approached the bar there was a very loud explosion followed by a cloud of smoke and dust above the bar. I realised very quickly that there had been a serious incident, so I ran across the road to see what I could do to help.
"I had absolutely no idea what had happened. What was obvious to me, when I looked at the debris that was covering the front door, was that there had been a major collapse, a severe collapse in a very, very busy pub, so without knowing what was happening it was obvious to me that there was numerous casualties.
"A lot of people were exiting the pub in whatever way they could. A lot of them were trying to do something for the ones that were still trapped.
"People had various injuries. Some people had obvious cuts and lacerations, other people had less obvious injuries, but everybody was absolutely covered in dust. Everybody that came out of there looked bad from the dust alone.
"Anybody who was in that bar who got out alive must consider themselves very fortunate."