Apply for card to get discounts and free swimming
North Lanarkshire launches smartcard for under-12s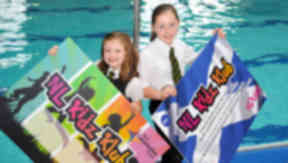 School pupils have been urged to get signed up for a card which will make it easier to get free and discounted activities.
The Kidz Klub Card, a free smartcard for under-12s, has been launched which will make it easier for youngsters to get free swims.
The card will also allow them to access leisure, library, community arts and entertainment discounts and is the first of its kind in Scotland.
Lizanne McMurrich, head of Community Information and Learning at North Lanarkshire Council, said the card is quick and easy to use.
She said: "The card is personalised, allowing parents to choose which services their child can access.
"It's quick and easy to use and should cut down on the number of cards young people need to carry."
Blane Dodds, chief executive of North Lanarkshire Leisure, added: "Our aim is to encourage all youngsters across the area to get more active more often and this initiative will make it even easier for them to access our leisure facilities."
Application forms have been issued to all primary and nursery pupils. The application form can be downloaded from the council website or by emailing or telephoning 01236 812239.