Easdale: 'Wealthy individuals' backing investment plan for Rangers
The Ibrox director spoke to STV News a week before the Ibrox club's crucial AGM.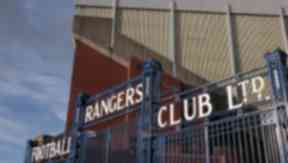 Rangers director Sandy Easdale has insisted investors have been lined up to put money into the club – but would not disclose who they are.
In an interview with STV News, Easdale also said former chief executive Charles Green and convicted fraudster Rafat Rizvi were not part of his plans for Ibrox.
A year after the club was floated on the stock market, Easdale and his brother James have emerged as major power players in the battle for control of the club.
Sandy Easdale has acquired voting rights for 26.2% of Rangers' share capital, giving the board 46% of the total ahead of next week's AGM.
But fans are concerned that mystery surrounds the identity of those behind some of the club's investors, including Blue Pitch Holdings and Margarita Holdings.
Easdale told STV News he knew the identity of every investor he had brought to the club, claiming that both Blue Pitch and Margarita were in the hands of "very wealthy individuals who have backed the club from the beginning".
He said he had had no dealings with Rafat Rizvi, who is wanted by Interpol over the collapse of a bank in Indonesia. Rizvi's name surfaced in taped conversations between former owner Craig Whyte and Ibrox director Brian Stockbridge recorded in the build-up to Charles Green's takeover.
Easdale, who claims to have put £1.5m of his own wealth into the club, denied acting as a front for other people's money. "Any money I've put into Rangers is my personal money," he said.
He ruled out any plans to sell and lease back Ibrox stadium and insisted investors were lined up to ensure the club was not at risk of a second period of administration.
"We've got a short-term investment plan to get through these periods if need be," he said. "There is investors there who will put more money into Rangers.
But he stopped short of identifying the potential backers: "I'm the same as the requisitioners, they haven't named theirs so I'm not at liberty to name mine."