First Bus cancel Christmas Day service due to lack of use
First Bus scrap Christmas Day service due to lack of people using public transport on the day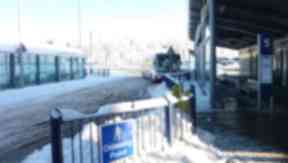 The news that all bus services have been cancelled on Christmas Day has been met with anger by travellers throughout East Kilbride.
First Bus have taken the decision not to run buses on Christmas Day or after 4.30am on New Years Day due to the "small number of customers who have used the service in previous years."
An STV East Kilbride user said on our Facebook: "It's a disgrace, no buses on Christmas Day. As if Christmas wasnt expensive enough...taxi's now. That's a disgrace! Disgusting behaviour - never mind First Glasgow, Worst Glasgow!"
STV East Kilbride users who are angry with the news have also been commenting on our Twitter.
One tweeter said: "It's outrageous to be honest. How is that justified? The real winners will be taxi drivers, already gleefully hiking up prices."
Another disgruntled traveller tweeted: "Some of us have to work over the Christmas period and need public transport. It may be a holiday but the world doesnt stop!"
Expensive day at work
People like Kenneth Hide, a staff nurse at The Victoria Infirmary who lives in East Kilbride.
Kenneth told STV East Kilbride: "I will be working on Christmas day. I live out in East Kilbride and for many years I have relied on the 66 bus to get to work.
"I now hear that there will be no service on Christmas day...this is going to be a very expensive day for me as i will need to go by taxi.
"I find this situation very poor. Just think of the visitors too who rely on public transport.
"The government in Scotland is pushing for green causes but situations like this just encourage people to buy cars as they cannot rely on this so called public transport."
When asked to comment, First Bus released the following statement: "We have taken the decision not to operate services on Christmas Day or New Year's day this year due to the very small number of customers who have used the service in previous years.
"First in Glasgow will however operate a Hogmanay night bus service between 12.30am and 4.30am on New Year's Day."
What do you think? Were you planning on travelling by bus on Christmas Day? Let us know.
You can also follow STV East Kilbride on our Twitter and view our Facebook page.