Paul Ferris taking legal advice over gangland rival's autobiography
William Lobban says his book, The Glasgow Curse, is an attempt to set the record straight over the 1990s turf war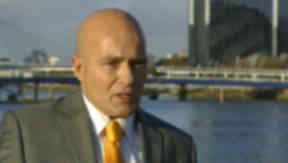 Former Glasgow gangster Paul Ferris is considering taking legal action over a book written by a rival underworld figure.
William Lobban told STV News his autobiography, The Glasgow Curse, was an attempt to set the record straight over a turf war in the early 1990s.
Lobban was incriminated by Ferris at his trial for the murder of Arthur Thompson Jnr, son of the Glasgow underworld boss, in 1992. The 22-year-old Ferris was acquitted and nobody else has ever been convicted of the crime.
On the day Arthur Thompson Jnr was buried two men, Bobby Glover and Joe Hanlon, were found shot dead in a car park along the route of the funeral cortege. Their murders remain unsolved, but Ferris has accused Lobban of setting up the killing – a claim Lobban vehemently denies.
Lobban said: "There's two stories out there just now. There's one story from me and there's another story from Paul Ferris.
"He gets the not guilty and then my name is put firmly in the frame for shooting young Arthur Thompson Jnr. So I've had to live with for over 20 years no and it's not been very nice."
Ferris told STV News he was taking legal advice over the contents of the book.