Businesses fear new park rules could drive them off green spaces
Dog walkers, nurseries and fitness instructors could all be required to pay to use Glasgow's parks.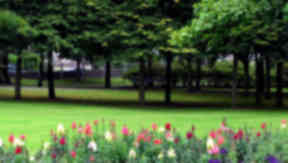 Fitness instructors, nursery groups and professional dog walkers could all be forced to seek permission to use any of Glasgow's parks under reforms mooted by the city council.
A consultation has been launched to seek public opinion on the future of the city's green spaces in the wake of an unauthorised party in Kelvingrove Park in 2011 which saw 21 people arrested.
Glasgow City Council says the proposed new rules would encourage park users to "take responsibility for their own actions and respect other people", but small businesses have warned they go too far.
Fitness instructor Graham Guthrie currently uses three parks to train his clients, and said his business would suffer if he was required to pay to use them.
His fears relate to a section of the consultation which would force anyone using the parks for commercial activity to seek prior written consent before doing so. This could involve paying a fee for a permit, Mr Guthrie said.
Currently, three Scottish local authorities ask commercial groups holding exercise classes to apply and pay for a permit, which can cost up to £50 a day.
But the council insists a "common sense approach" would be used to apply the rules. A spokesman added that they are not intended to restrict use but to encourage people into the parks.
Other proposed rules include a ban on any unauthorised gathering of 20 or more people "which has not had the prior written consent of the Director" and a ban on playing or practicing "any organised sport".
Operating a radio "or similar apparatus" and playing a musical instrument would also be disallowed under the new rules.
The public consultation on the proposed new regulations closes on February 14.