Playing football effective way for men to lose weight, study shows
A group of 374 football fans lost 11lb each playing the sport regularly compared with a separate group who did not take part in the sessions.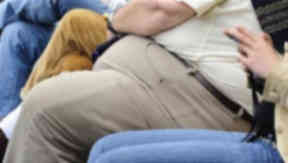 Playing football is an effective way for men to lose weight, a Scottish study has shown.
A total of 374 overweight football fans undertook a 12-week programme which included training sessions at their local football club.
As a result, the men had lost around 11lb each compared with a group of 374 other overweight fans who did not take part in the soccer sessions.
Both groups received advice on healthy eating but only one group took part in the physical activities.
Thirteen professional clubs took part including: Aberdeen, Celtic, Dundee United, Dunfermline Athletic, Hamilton Academical, Heart of Midlothian, Hibernian, Inverness Caledonian Thistle, Kilmarnock, Motherwell, Rangers, St Johnstone and St Mirren.
Co-author Prof Kate Hunt, from Glasgow University, said: "Weight management and dieting are often wrongly viewed as women's issues, meaning that some men do not want to take part in existing weight management programmes."
"Participants really enjoyed being with other men like them, with a shared interest in football and similar health issues to address. They loved having the opportunity to spend time at the club, using parts of the stadium that they couldn't ordinarily access.
"And they appreciated the chance to be encouraged, trained, and informed by the club's coaches. This model has real potential for the future."
Billy Singh, General Manager of the SPFL Trust which worked in partnership with clubs to encourage their involvement in the programme, said: "These just might be the best set of results of the season. All participating clubs should be congratulated on the hard work that has gone on behind the scenes to help achieve these fantastic outcomes and the SPFL Trust is very proud of the role it has played.
"Of course, the greatest vote of congratulations must go to each and every SPFL supporter who has participated and enjoyed a life-changing experience thanks to their drive and determination.
"They should all be very proud of themselves and we hope they act as inspirations for other supporters to follow suit."
Neil Doncaster, SPFL chief executive, said: "This is a powerful endorsement of the positive force Scottish football can play off the pitch, helping to make a significant and hugely positive contribution to the lives of many."
Bob Winter OBE, chairman of The SPFL Trust, added: "The Scottish Professional Football League Trust works in partnership with the 42 professional football clubs in Scotland to create opportunities at the heart of our communities that bring people together and change lives for the better. This is more evidence that the programmes we are activating throughout Scotland, across the pillars of activity of health, citizenship, achievement and participation, are working and immense credit must go to the driving forces behind FFIT as well as the fans themselves."