Wanted: Cast members for Glasgow 2014 opening and closing ceremonies
Organisers want to find 'genuine and enthusiastic' people to take part in the ceremonies.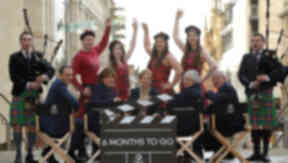 Glasgow 2014 are looking for up to 3000 cast members for the opening and closing ceremonies of the Commonwealth Games.
Organisers want to find "genuine and enthusiastic" people to take part in the ceremonies in six months' time.
The performances will take place at Celtic Park and Hampden in front of a live audience of 40,000 and television audience of more than a billion.
Anyone who wants to take part needs to be over 18 and available to attend auditions, rehearsals and performances. All places are voluntary and no experience is needed.
Eileen Gallagher from Glasgow 2014 said: "The Opening and Closing ceremonies of the XX Commonwealth Games are a huge opportunity to showcase on a global stage our culture, creativity and character.
"It's Scotland's biggest ever sporting and cultural festival, and we're planning an unforgettable party – an ambitious celebration to welcome the world to Scotland's liveliest city.
"For this to be a success it's really important that ordinary people are front stage both in Celtic Park and to audiences across the globe as they can demonstrate more than anyone the passion and enthusiasm the city and the country have for hosting the Games."
Culture secretary Fiona Hyslop said: "2014 is Scotland's year to shine. Auditioning to take part in the Opening and Closing Ceremonies at the Games will give people the chance to take a break from the 'every day' and potentially be part of a special moment.
"Whether from the Host City or further afield – I hope aspiring performers of all ages will take the chance to be part of the cast, to represent Glasgow and Scotland, and to give a warm welcome to the world."
Anyone who wants to apply should visit the Glasgow 2014 website.