Boxing promoter Barry Hughes used £33,000 legal aid during fraud case
The former boxer and convicted fraudster received the money for legal costs as he faced charges of mortgage fraud.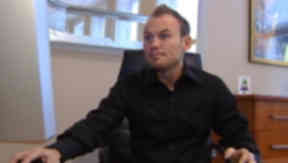 Boxing promoter Barry Hughes used £33,000 in legal aid during his mortgage fraud case in which he was convicted this week.
The convicted fraudster is facing jail after he pleaded guilty to a £1.2m mortgage fraud at the Glasgow Sheriff Court on Wednesday.
The 35-year-old claimed his wife Jacqueline, 37, made £160,000 from her business McDonald Interiors but divorce papers lodged by her in 2006 stated she was "financially dependent" on her husband.
Hughes, from Kilmacolm, Renfrewshire, admitted lying on mortgage applications about his wife's income in January 2004 for one property in Bridge of Weir and in November 2006 for a second in Kilmacolm.
He also admitted two money laundering charges - for receiving £128,885 after selling the first property and spending £30,000 towards a Rolex watch. Mrs Hughes' not guilty pleas to the charges she faced were accepted.
Proceeds of crime papers were served on Hughes and a hearing will take place at a later date.
And it can be revealed that Hughes received 33,000 in legal aid to pay for lawyers during the case.
A spokesman for the Scottish Legal Aid Board said: "Legal aid was granted to Barry and Jacqueline Hughes in 2010 by the court which applied strict tests to assess whether they were financially eligible.
"Under the Proceeds of Crime Act, assets frozen or seized by the court cannot be used to fund legal proceedings. Depending on the outcome of the case, these may be used to pay the legal aid bill and offset costs to the taxpayer."
A Crown Office spokesman confirmed proceeds of crime proceedings against Hughes were ongoing.