Scottish students try out life on Mars for tomorrow's astronauts
Two researchers visited the Mars Desert Research Centre in Utah to simulate conditions on the red planet.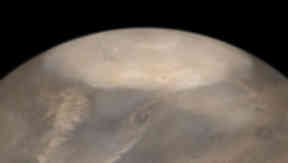 Two students at a Scottish university have been experiencing life on Mars to see if astronauts will one day be able to travel to the red planet.
The duo spent two weeks at the Mars Desert Research Centre in the American state of Utah, which closely replicates conditions on Earth's neighbour.
Scientists from Turkey, South Africa and the Czech Republic are involved in the project, which is based at Strathclyde University.
Using data gathered from Nasa's Mars Rover mission the students carried out tests on the barren landscape and tackled practical issues such as how to generate electricity in a hostile environment.
Their findings will be published in a paper for an academic journal and be presented to space agencies and other organisations involved in space travel. Experts hope it will bring forward the day when astronauts can make the 40 million mile journey for real.
Professor Richard Brown, of the Centre for Future Air-Space Transportation Technology, said: "The data that they've gathered is going to be very imporatnt for converting science fiction into engineering fact.
"So to do that transformation what we need is hard data on what it is actually like to live on the planet itself."
Professor Brown and student Martin Kubicek spoke to Scotland Tonight on Thursday to explain the Mars mission.