Celtic condemn 'negative' football laws and call for urgent review
Club calls on government to review Offensive Behaviour at Football Act 'as a matter of urgency'.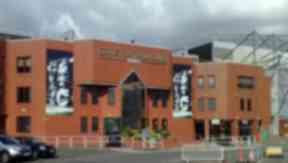 Celtic FC have set themselves on a collision course with the Scottish Government after an early review of controversial laws intended to stamp out religious sectarian abuse was rejected as "nonsensical".
The club issued a sternly worded statement on Tuesday evening after MSP Roseanna Cunningham rejected suggestions at Holyrood that the review should be brought forward from the deadline, due in August 2015.
The Offensive Behaviour at Football and Threatening Communications (Scotland) Act received Royal Assent in January 2012 and an agreement was made at the time to review the offences after two full football seasons but Celtic says the laws are "unhelpful" and should be reviewed now "as a matter of urgency".
The club statement said: "Celtic have called for a review of the Offensive Behaviour at Football Grounds Act to be brought forward and have labelled it 'unhelpful and counter-productive'.
"The Scottish Government introduced the legislation in 2012 and promised a review after two full football seasons of operation. However, Celtic believe that there is already sufficient evidence of the Act's 'unhelpfulness and negative impacts' to justify an immediate review with action to follow.
"Celtic have all along opposed this legislation which has been used to create a general presumption that different laws should apply to football supporters as distinct from society as a whole.
"This has inevitably led to a sense of discrimination across Scottish football and has brought the law into disrepute when tested in the criminal courts. It has also acted as a barrier to our own efforts to encourage supporters to behave in a way which is consistent with the club's proud history and reputation.
"We believe the Scottish Government should review, as a matter of urgency, the way in which this unhelpful and counter-productive Act is operating."
The club said they have always valued a positive relationship with the police and is concerned that they have been put in the position of enforcing legislation which is "provocative and does not command widespread respect".
They say that the Act has brought the law into disrepute and to report back to Parliament one year later, but concerns have since been raised by fans about police tactics and the Act in general.
Minister for community safety Roseanna Cunningham had earlier insisted that the review would not be moved from August 2015, when Stirling University researchers are due to publish findings.
She told MSPs on Holyrood's Justice Committee: "Until August 2014, they haven't got all the information. It's at that point they start to be doing all the analysis of the two full years work.
"We are now a good two years down the line from this being implemented and we're coming close to the end of that two-year review period the Act provided for.
"I just don't really see any great need for that to be changed. I couldn't now step in and ask them to do something differently to what they've been instructed.
"That process, because it's being done independently, because it's being done through Stirling University, is going to give a proper, comprehensive, quality-assured, evidence-based evaluation which will be — I hesitate to say incontrovertible, because nothing is ever incontrovertible — but it will be as solid a piece of work as you could possibly expect."
Asked if anything could happen before the 2015 deadline, such as in interim report, she replied: "No, it would be nonsensical to do something while this review was ongoing when we know the review is going to be published — they're the independent researchers, they're the ones that will be able to tell us something needs to be tweaked or not."
The legislation gives police and prosecutors new powers to tackle sectarian songs and abuse at and around football matches, as well as threats posted on the internet or through the mail. It created two distinct offences, punishable through a range of penalties up to a maximum five years in prison and an unlimited fine.