On this day in Glasgow's History: 2003, thousands protest against war in Iraq
Glasgow saw one of its largest ever protests against the invasion of Iraq, in 2003.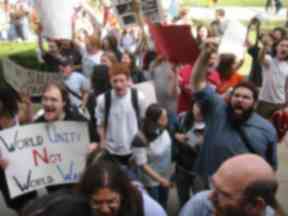 Prime Minister Tony Blair was speaking at his party's spring conference at the Armadillo, but as he took to the stage, thousands were gathering outside to demonstrate against the coming war.
Flooding to Glasgow from all over Scotland, the numbers were estimated at anything between 50,000 and 80,000. Train services heading for the city had been doubled to cope with the traffic.
Having marched through the city from Glasgow Green, the crowds now wanted the PM to listen to their plea.
But, in an effort to avoid them, he had brought his conference speech forward and left the hall immediately after, whisked away by a waiting car.
In the SECC car park, the protestors listened to rallying calls from SNP leader John Swinney, STUC leader Bill Spears, and Tommy Sheridan.
Addressing the crowd, the city's Lord Provost, Alex Mosson, said: "We are saying quite clearly, and we are the voice of the majority, that we don't want this war.
"If Tony Blair can't hear our voices from the SECC, then he will hear them in Downing Street."
The strength of the protest – which brought out millions of people worldwide – led to hope within the anti-war movement that the invasion could be halted. But on March 20, 2003, the first attacks were launched on Iraq.
The invasion led to the capture and death of dictator Saddam Hussein and an occupation which saw UK troops stationed in Iraq until April 30, 2009 and US troops until December 15, 2011.
You can watch STV's video of the protest in Glasgow.