Boxing promoter Barry Hughes jailed for over three years for fraud
Hughes is behind bars after claiming £1.3m for two mortgages on properties after a lengthy legal battle.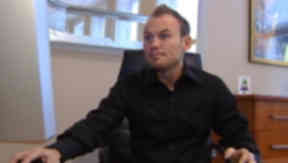 Boxing promoter Barry Hughes has been jailed for three and a half years for a £1.3m mortgage fraud after a lengthy legal battle.
After more than two and a half years of court proceedings, the 35-year-old pled guilty to fraudulently claiming £1,287,955 for two mortgages and was behind bars on Wednesday.
Father-of-four Hughes claimed his wife Jacqueline, 37, made £160,000 from her business McDonald Interiors but divorce papers lodged by her in 2006 stated she was "financially dependent" on her husband.
At Glasgow Sheriff Court, Hughes, from Kilmacolm, Renfrewshire, admitted lying on mortgage applications about his wife's income in January 2004 for one property in Bridge of Weir and in November 2006 for a second in Kilmacolm.
He also admitted two money laundering charges for receiving £128,885 after selling the first property and spending £30,000 towards a Rolex watch.
On Wednesday he was handed a 43-month prison sentence for the offences.
Passing sentence Sheriff Alan Mackenzie told him: "Notwithstanding all that has been said on your behalf the fact remains that the deception you engaged in was not only audacious, involving extravagant claims to secure very substantial loans, but was also repeated.
"Given the gravity of the catalogue of offending to which you have tendered guilty pleas I consider that no disposal is appropriate other that custody."
Jacqueline Hughes made no comment as she left court with Hughes' father.
Mrs Hughes' not guilty pleas to the charges she faced were accepted. She kissed him before she left the dock. Proceeds of crime papers were served on Hughes and a hearing will take place at a later date.
The court was told that in January 2004 Hughes applied for a self-certified mortgage in his wife's name for £429,955, claiming she was self-employed and owned McDonald Interiors.
Based on the information given to a mortgage broker the application was completed and granted.
During the trial procurator fiscal depute Bernard Ablett told the court: "The lenders state that if they had known that the income details were false they would not have approved the loan request."
The purchase of a property in Juniper Avenue, Bridge of Weir was finalised in March 2004. Before buying a property at The Avenue, Kilmacolm, Mrs Hughes began divorce proceedings and papers were lodged at the Court of Session.
Mr Ablett said: "The summons stated that the marriage had broken down irretrievably. It averred that Jacqueline Hughes had been financially dependant on Barry Hughes both prior to, and after, their marriage on August 10, 2003.
"They also indicated that Jacqueline Hughes had not worked since the birth of their first child in 2000."
Mr Ablett added: "The total amount of loans obtained by the accused as a result of the false statements in the application forms amounts to £1,287,955.
"Barry Hughes attended at Watches of Switzerland in the Argyll Arcade, Glasgow and via a card transaction paid £30,202 from his personal account towards the purchase of a Rolex watch."
Records from HMRC and DWP show Mrs Hughes was a flight attendant between 1995 and 1997 and earned a maximum of £6840 per year and she received income support between October 2000 and September 2003.
She had declared no income to HMRC from 2003 until August 2009, and between then and February 2010 received £25,000 of wages from working as an office clerk with a taxi company.
In his plea in mitigation, Gordon Jackson QC told the court that Hughes put the house in Kilmacolm in his wife's name to save their marriage after having relationship problems.
He told the court: "He wanted her back, he was trying everything in his power to persuade her that the relationship should not end, should continue at that time.
"The only way she would agree to restart the relationship and move back in was if the house was put in her name.
"In order to keep the marriage stable and alive he agreed to that."Mr Jackson added that Hughes had raised money for various charities including Yorkhill Children's Charity and held a charity boxing night also."
Hughes will return to the dock next month to be sentenced for proceeds of crime, when defence QC Gordon Jackson will give his plea in mitigation.